"What is 'Gundam', anyway?" This simple (?) question is answered in our forty-first casual weekly column just for new fans!
by Ema Baba
A new super-simple intro column for new Gundam fans comes gliding in on oversized fins!
We're back with Part 41 of what makes Gundam Gundam.
You can see our previous coverage of what makes Gundam Gundam
here
, and this week we're back with another Gundam standard!
One of the best things about Gundam is its beautiful female pilots—women who, even on a scarred battlefield, bloom as passionately as a rose and gleam as brightly as the light of a full moon. They're not just decorative, either; many of them have piloting skills or firm convictions that put their male comrades to shame.
In part 41, we bring you "Women Pilots" (Part 2)!
???
[Part 2]
Gundam's women pilots are supremely talented and extremely determined!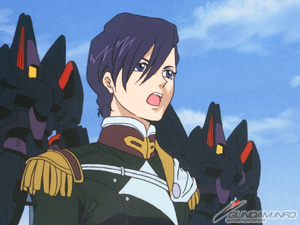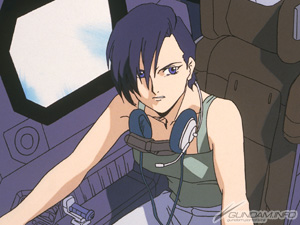 Lucrezia Noin (New Mobile Report Gundam Wing)
An officer in the Earth Sphere United Nations' secret special forces unit OZ, with a calm and noble bearing.
Assigned as a trainer of cadet pilots at the Lake Victoria base, her life is changed when Chang Wufei (one of the five Gundam pilots) conducts a raid targeted at the new "Taurus" mobile suit and wipes out her trainee squadron.
While she quickly pursues in her own OZ-07AMS Taurus, she hesitates to pull the trigger when she sees how young Wufei really is, allowing him to counterattack and take down not only her mobile suit but also a transport plane.
Acutely sensing her own weakness as a soldier, she joins up with academy classmate Zechs Merquise in order to further hone her skills.
The masked Zechs (← actually the prince of Sanc Kngdom, a nation dedicated to the principle of nonviolence) has been a longtime friend, and perhaps something more, to Noin; he himself notes that it's thanks to her that he graduated at the head of their class, and this seems to have less to do with study help or focused practice and more to do with her deliberately tanking her own grades down to salutatorian level. Such devotion! As one could expect of a masked man in Gundam, Zechs is cool and handsome and everything, but... It just isn't fair.
She even keeps a close track of how long it's been since they last met. ("Zechs... It's been a year and 22 days.", like some sort of latter-day Shereshevsky...) Honestly, it comes off as almost stalker-ish at first sight, but their relationship really is one in which the fleeting romance is just a distraction to the deep bond they share as soldiers.
Anyway, if Zechs is capable of keeping up with any of the five Gundam pilots, and Noin in turn outpaced him during their days as cadets, it's possible that she's the true ace of
Gundam Wing
, even if we never actually get the chance to see it.
Later, she separates from OZ and joins the guard of the resurrected Sanc Kingdom, only for it fall to OZ forces for a second time.
Following this, fighting for the Peacemillion, she ends up working with the Gundam team, at times against Zechs, but in the end they join forces.
While Noin's original goal is to become a better soldier, in the end, she decides to fight for the greater goal of world peace. It's a fitting choice for her to make.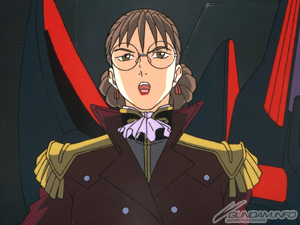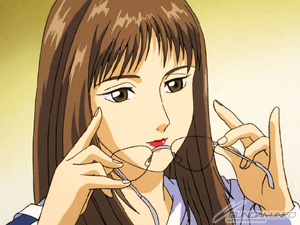 Lady Une (New Mobile Report Gundam Wing)
Commands the strike forces of the secret military organization OZ as right-hand woman to its leader Treize Khushrenada. While her past is unknown, her severe gaze suggests a serious and results-oriented personality.
But what's even more remarkable than her amazing piloting abilities (← She takes down Wufei's Shenlong Gundam with a mass-produced Leo!) is her double personality.
It's not a secret identity like out of a mystery novel or anything; instead, rather than a mask, when she puts on her glasses (← with unusual round frames) her loyalty to Treize reaches chilling levels as she becomes a one-woman mafia dedicated to the intimidation, mutilation, and assassination of his Earth Sphere Unified Nation enemies. (← even Treize becomes displeased with her cruelty...)
On the other hand, with her hair down and her glasses off, she's a sisterly, almost Sisterly, friend to space colonists. While the growing difference between her actions and Trieze's ideals gradually ate away at her, it's still kind of amazing—not necessarily in a good way—how her abject loyalty lead to such abrupt shifts in personality. You've probably heard of getting one's chocolate in one's peanut butter, or vice versa, but this is more like getting one's filet mignon in one's banana split. (← though I guess some people are into that kind of thing...)
In the end, her peace-loving personality wins out, and awakening from a coma before the final battle, she combines the best aspects of each. Finally, after Trieze's death, she announces the surrender of the World Nation; having come to understand what he did about the nature of battle, she (← at Noin's request) broadcasts the final duel between the Wing Gundam Zero and Gundam Epyon in order to show the entire world just how ultimately tragic war is.
And with that, we've completed our second look at woman pilots!
Oh, isn't Gundam just so fascinating?
Well, well, well, well, well, well, well, well, well, well, well, well, well, well, well, well, well, well, well, well, well, well, well, well, well, well, well, well, well, well, well, well, well, well, well, well, well, well, well, well, well, that's it for this week. Next week we'll be taking another laid-back look at what makes Gundam Gundam!
[Author profile]
Ema Baba
Scriptwriter. Troublemaking scenarist.
Learning more every day to teach you about the fun of Gundam!
Activez les cookies pour voir les articles recommandés