"What is 'Gundam', anyway?" This simple (?) question is answered in our twenty-third casual weekly column just for new fans!
by Ema Baba
A super-simple intro column for new Gundam fans drifts to the surface! We're back with Part 28 of what makes Gundam Gundam.
You can see our previous coverage of what makes Gundam Gundam
here
, and this week we're back with another Gundam standard!
Something you really can't ignore about Gundam is the unforgettable dialogue.
Our 28th column is a third look at some of Gundam's famous lines!
???
[Part 1]
Gundam's famous lines are passionate!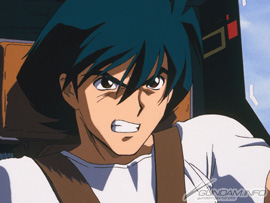 "I'm gonna live! And I'll marry Aina!" (Shiro Amada / Mobile Suit Gundam The 08th MS Team)
First, we quote the idealistic young pilot Shiro Amada (
Mobile Suit Gundam The 08th MS Team episode
10 "The Shuddering Mountain, Part I")
Second Lieutenant Amada, assigned to the 08th MS team of the "Kojima Battalion" (a Federation mechanized formation deployed to the Far East) shortly after his graduation from officer school, meets heroine Aina Sahalin during an attack on the transport carrying him to Earth.
Aina, a kindhearted woman, works tirelessly to support her brother Ginias's (a Zeon science officer) goal of restoring the Sahalin family to its former glory.
A Principality of Zeon test pilot, (←behind the stick of a MS-06RD-4 Zaku II) she trades direct hits with Shiro in space combat. Each bailing out, they encounter each other in the wreckage of a destroyed battleship. As the two enemies work together to survive, Aina's feelings for Shiro begin to change from antipathy to love... And the melodrama (←I suppose) unfolds further as the story continues.
Aina, previously little more than a puppet for the ambitions of her brother Ginias, acquires a new independent streak after her meeting with Shiro, but it also marks the beginning of a tragic romance.
Fate brings the couple closer together in what could, I suppose, be called one of Gundam's steamier scenes: when Zeon's experimental "Apsalus II" mobile armor, piloted by Aina, is shot down and she's forced to bail out in a remote and snowy mountainous area, Shiro uses his beam saber (←which
has
to be set to low power) to heat an open-air bath for the two to share. As the show draws closer to its conclusion, Shiro shouts "I'm gonna live! And I'll marry Aina!" in the midst of a duel with Zeon ace Captain Norris Packard and his Gouf Custom. Shiro feels nearly powerless against Packard's relentless lone assault, but his determination to survive for his friends in the 08th MS Team and his beloved Aina push him to call out... Though, heartfelt proposal or no, only Packard was in a position to actually hear.
Seeing these two star-crossed lovers fight to be together from opposite sides of a war is sure to sway even the stoniest of hearts.
If you want to see whether they finally end up together, watch
Mobile Suit Gundam The 08th MS Team
! (11 episodes, 1 special, 1 movie)
The
Mobile Suit Gundam The 08th MS Team Blu-ray Memorial Box
, complete with brand-new footage, is available now!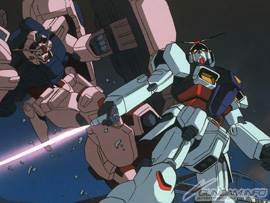 "Oh no! Please, not both my Gundams!" (Nina Purpleton / Mobile Suit Gundam 0083: Stardust Memory)
Next, a line from Nina Purpleton, Gundam Project engineer. (
Mobile Suit Gundam 0083: Stardust Memory
episode 2, "Endless Pursuit")
An employee at the Von Braun branch of Anaheim Electronics, she's a systems engineer for both the GP01 and GP-02A, and holds an unhealthy fascination with Gundams. (A fetish, almost? If you don't know what that means, ask your mom and dad.) Her passion, and her incapability to spend a single day without Gundam, are emotions surely shared with Gundam fans worldwide. But have any of them built their own 1/1 Gundam? (I think not.)
Ace pilot Anavel Gato, the "Nightmare of Solomon" and Nina's ex-lover, succeeds in capturing the GP02A for the Delaz Fleet faction of Zeon remnants during a field test under her direction, but Kou Uraki, her current lover and an EFSF ensign, takes off in hot pursuit at the controls of the GP01. This is Nina's reaction as Gato and Kou clash in the two Gundams.
With that kind of assertive possessiveness, you know that SOMEWHERE on those she's written her name. (←Maybe in the waistband?} And you know that the crew are standing there, somewhere between shocked and disgusted that she's more worried about the Gundams than their pilots (who are, after all, her boyfriend and her ex.)
Nina deftly manipulates both Gato and Kou throughout the series, but it's this line that lands her among the top three worst women of Gundam.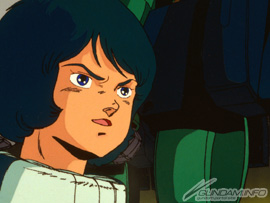 "I hate you adults and your lies!" (Kamille Bidan / Mobile Suit Zeta Gundam)
Dialogue from Kamille Bidan, Newtype and young mobile suit pilot of the anti-Federation A.E.U.G. (
Mobile Suit Zeta Gundam
episode 13, "Shuttle Launch")
After his escape to space from Green Noa 1 (a Side 7 colony) following a raid by an EFSF Titans unit, Kamille is vocal in his opinion that Federation Lt. Quattro Bajeena should proclaim his true identity (Ch** A*na*le) and take a leading role in both the A.E.U.G. and government. Quattro, however, demurs leadership or even acknowledgment of his real name, prompting an angry punch from Kamille delivered along with this line.
Kamille, known for his anger management issues (he has a complex about his name's perceived femininity, and is a member of his high school's karate club,) is sent over the edge this time not by a schoolyard taunt but by Quattro Bajeena's equivocation.
But Quattro has his own reasons for not wanting to be **ar... Kids these days are just so self-centered. (← I sound like an old lady, don't I.)
I suppose that scary "I've heard enough!" was something he was used to hearing just before a bout of hazing from other karate club members. On the other hand, it takes a line like this to show just how earnest and enthusiastic Kamille can be... I think it's a wonderful line! I think that if Kamille saw what passed for adults nowadays, he'd be screaming it every waking moment!
And of course, I hear the same thing from my beautiful editor every time she fact-checks this column... (←Okay, that was a lie.)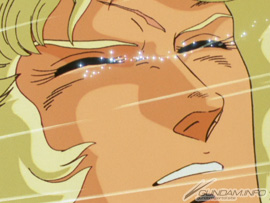 "He's still too young. That's all."(Quattro Bajeena / Mobile Suit Zeta Gundam)
Last, the words of Federation Lt. Quattro Bajeena. (
Mobile Suit Zeta Gundam
episode 13, "Shuttle Launch")
This mysterious man is actually the "Red Comet", Char Aznable!
After the One Year War depicted in
Mobile Suit Gundam
, Char took the identity of a missing soldier (←Char status: still a dick) and joined the anti-Federation A.E.U.G., fighting against the E.F.S.F.'s elite Titans.
Spoken just after being punched by Kamille Bidan, this line has even more impact when contrasted with his (also famous) line from
Mobile Suit Gundam
, "Nobody ever likes to admit to mistakes due to his own youth."
I guess, years after his renown as the "Red Comet", Char's best years are behind him, but wait, Char! You're still in your 20s! Has the pressure really been that hard on you!?
Does Kamille's mastery of karate give his punches that extra bit of punch? No matter what the reason, the veteran warrior Quattro Bajeena is launched backwards, tears welling up in his eyes! Eh? Does it really hurt that much? Wait, I know, since even his own father never...... No, never mind, wrong character. Wait, I know! A cool character like Char would never cry! Someone crying because of this can't be the real Char! Char knows Kamille would think so, so he's faking tears in order to fool him as part of a deeper plan, right!? (←Okay, I'm thinking too hard.)
And there it is, "Famous Gundam Lines (Part 3)"!
Oh, isn't Gundam just so fascinating?
Well, well, well, well, well, well, well, well, well, well, well, well, well, well, well, well, well, well, well, well, well, well, well, well, well, well, well, well, that's it for this week. Next week we'll be taking another laid-back look at what makes Gundam Gundam!
[Author profile]
Ema Baba
Scriptwriter. Troublemaking scenarist.
Learning more every day to teach you about the fun of Gundam!
Activez les cookies pour voir les articles recommandés