18 janvier 2015
See Gundam The Origin vol. 1 and making-of Bluray design samples!
Chic spines perfect for any shelf!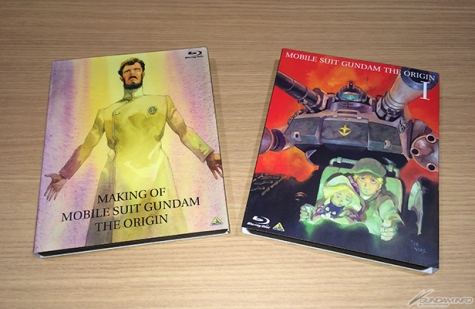 Mobile Suit Gundam The Origin I: Blue-Eyed Casval
premieres February 28th in theaters, on advance Blu-ray, and streaming, and we've got shots of two Blu-ray releases!
The "Making of
Mobile Suit Gundam The Origin
" Blu-ray sold as part of an exclusive Loppi ticket package features Zeon Zum Deikun on the sleeve, and the covers of both the 2/28 exclusive Collector's Edition and 4/24 retail releases show Casval, Artesia, and an early Guntank in new art by Yoshikazu Yasuhiko himself.
Spines are a sleek, chic black, perfect for any media library.
Preorders are open for both, so don't miss your chance to own!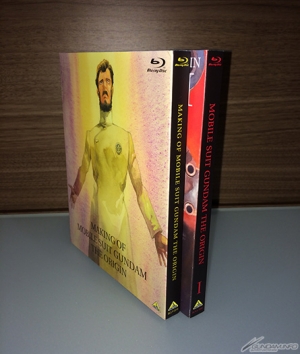 ▲ Left: making-of disc, right: Blu-ray volume 1. Add them to your media shelf!
■
Mobile Suit Gundam The Origin Blu-rays



Exclusive Blu-ray Collector's Edition
Date
Friday, April 24th, 2015
* Limited quantities available at theatrical showings beginning February 28th, 2015
Price
¥10,000
Contents
- Blu-ray
- Decorative box
- Storyboard and setting art collection
- Commentary booklet with comic manuscripts
- Jacket with exclusive art
- Staff and cast audio commentary
- Booklet
Participating retailers
Theaters, Bandai Visual Club exclusive
Details
Bandai Visual Club
Order before
March 23rd, 2015




Standard Edition Blu-ray
Date

April 24th, 2015


Price
¥7,344
Contents
- Blu-ray
- Commentary booklet with comic manuscripts
- Jacket with exclusive art
- Staff and cast audio commentary
- Booklet



Participating retailers
Standard availablity
Details
Bandai Visual




Reserved Ticket w/Loppi Exclusive Merchandise
Merchandise available
February 12th, 2015
Price
¥5,000
Contents
- Making-of Blu-ray
- Exclusive sleeve
- Exclusive illustration card
Participating retailers
Loppi counters at Lawson Ministop locations nationwide
Details
L-Tike.com
Order before
February 3rd, 2015
Activez les cookies pour voir les articles recommandés