31 mars 2011
President Sakurai of Dengeki Hobby Magazine Uses GM Custom 'Wagtail' to Give Painting Lesson Part 4!
電撃ホビーマガジン5月号特別付録「ジム改[ワグテイル]」を使った塗装実演を配信! Part4では角丸部分とダクト部分の塗装テクニックを紹介!
At the site where Wonder Festival 2011 (Winter) was recently held, designs from the special supplement GM Custom 'Wagtail' Conversion Parts from the May issue of Dengeki Hobby Magazine (3/25 on sale), were exhibited 4 times at the painting demonstration event.
⇒
Part1
、
Part2
、
Part3
are there!
Finally in the concluding Part 4, we show the painting techniques for the rounded areas and the duct portions.
Let's check out professional modeller President Sakurai's painting techniques!
■
Dengeki Hobby Magazine Presents President Sakurai's GM Custom 'Wagtail' Painting Lesson Part 4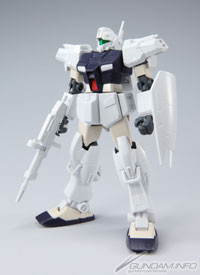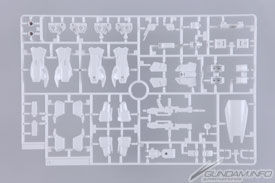 In GUNDAM.INFO and Dengeki Hobby Magazine's collaborative work 'ADVANCE OF Z: Rebels Against Time', the ongoing popular series of novels at GUNDAM.INFO, the GM Custom 'Wagtail' makes its debut with the hero Van at its helm. The May issue of Dengeki Hobby Magazine's special supplemental Conversion Parts involves using Bandai's HGUC GM Custom (currently being sold) and combining them to create the modified GM Custom 'Wagtail'.

Moreover, for those using this same kit, we have decided to announce the Dengeki Hobby Magazine and GUNDAM.INFO presents GM Custom 'Wagtail' Paint Contest!
The winning works will be displayed on GUNDAM.INFO and in Dengeki Hobby Magazine, and the most excellent will be presented an MG Mobile Suit Zeta Gundam HD Color Series 4 Type Set.
We will begin accepting applications starting on the March 25 sale date of the May issue of Dengeki Hobby Magazine, so let's check
here
!
IMPORTANT NOTICE: This particular contest may only be entered domestically by people in Japan.
* Les dates liées aux produits et aux services listés seront fixées au Japon.
Puisque les dates varient selon les lieux, veuillez consulter notre site officiel ou le magasin le plus proche pour plus d'informations.
Activez les cookies pour voir les articles recommandés