23 mars 2014
Read 200 series for free on Kadokawa's new ComicWalker service!
See Gundam The Origin in full color, plus the upcoming special chapter!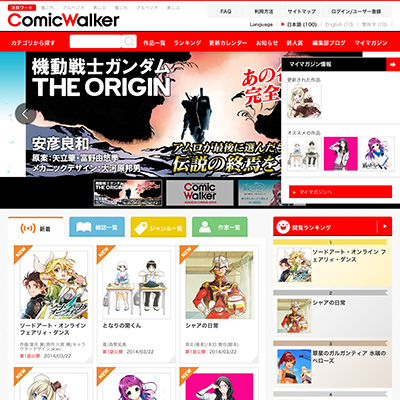 ComicWalker, one of Japan's biggest online comic services, goes free-to-read on March 22nd!
Kadokawa's ComicWalker brings you 200 titles readable anytime, including full colorizations with the latest technology, English- and Chinese-language titles, and the unique functionality of a digital version, all on your smartphone, tablet, or PC.
Get an advance look at Yoshikazu Yasuhiko's "Mobile Suit Gundam The Origin Tokubetsu-hen", or enter the "ComicWalker New Author Prize" or "ComicWalker KanColle Prize" competitions.
Try out the next step in Japanese comics, no longer held back by genre, demographics, or even national boundaries!
"ComicWalker" service details
[Languages]
Japanese, English, Chinese

[Price]
Free
* Future premium services planned
[To access]
○ Smartphone app version (available on App Store and Google Play)
○ Browser version
[System recommendations]
○ iOS: iPhone/iPad/iPod Touch with iOS 6.1+
○ Android : 4.0+
* Android 2.3+ supported, 4.0+ recommended.
○ PC: Internet Explorer 9+ / Chrome 15+ / Firefox 14+ / Safari 5.0+
The first chapters of Gundam titles
Mobile Suit Gundam The Origin
,
Mobile Suit Gundam-san
, and
Char no Nichijo
are currently available. Check them out for free!
▼
Comic Walker
http://comic-walker.com/
Activez les cookies pour voir les articles recommandés