27 avril 2016
26mm MS head figures! The Mobile Suit Gundam Machine Head line launches this August!
All feature sliding armor, and are available in standard and transparent versions!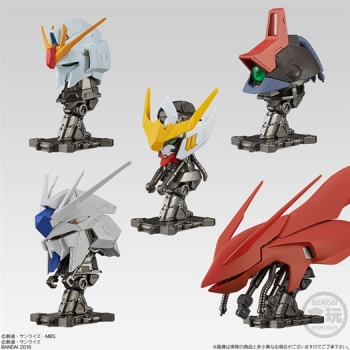 The
Mobile Suit Gundam
Machine Head collection of 26mm-scale detailed MS heads will launch this August. Each will retail for ¥450 (tax not included).
The initial lineup of this new Gundam candy toy series will include the Zeta Gundam, Rick Dias, Hi-Nu Gundam, Nightingale, and Gundam Barbatos. Each one features sliding armor and more, and is available in standard colors or a transparent "Framework" version.
You can even combine standard and transparent parts!








Mobile Suit Gundam Machine Head lineup

- Zeta Gundam
○ Zeta Gundam (Framework ver.)
- Rick Dias
- Rick Dias (Framework Ver.)
- Hi-Nu Gundam
- Hi-Nu Gundam (Framework ver.)
- Nightingale
- Nightingale (Framework ver.)
- Gundam Barbatos
- Gundam Barbatos (Framework ver.)
Activez les cookies pour voir les articles recommandés