29 septembre 2011
Digital card game 'Gundam Try-Age' site updates!
Get your Set #1 Key Visual wallpaper! Plus, we announce Deck Sets which give your already-fearsome mobile suits new abilities!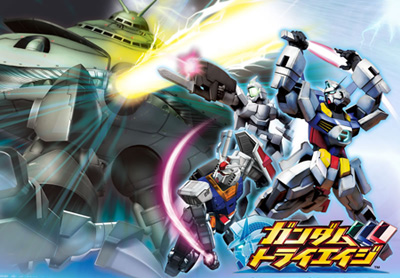 ■
Maniacs: 'Set #1 Key Visual wallpaper' posted
A wallpaper of Set #1's key visual is now available! Get your computer ready for its launch!
■
Battle Info: 'Mobile Suit Abilities' updated
Set #1's new 'Snipe', 'Double Strike', and 'Unsinkable' abilities added!
■
Goods: 'Deck Set AGE-1' announced
A deck set full of Mobile Suit Gundam AGE cards!
Check out how effective you can be with this deck set!
More info is available on the Gundam Try-Age official site.
Digital card game Gundam Try-Age




Set #0: Shinka e no Josho




Set #1: Aratanaru Kyuseishu

(October 6th)

One credit ¥100