27 février 2015
Mobile Suit Gundam The Origin I: Blue-Eyed Casval opens in 13 theaters nationwide! We report from the premiere event!
Shuichi Ikeda, voice of Char, and other cast members appear alongside chief director Yasuhiko!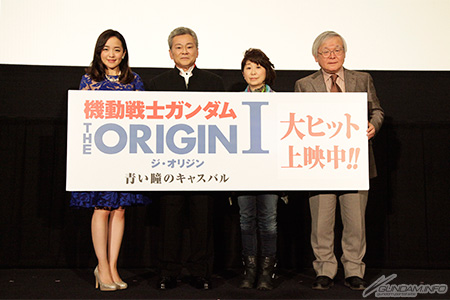 Mobile Suit Gundam The Origin I: Blue-Eyed Casval
hit theaters, paid streaming, and theatrical exclusive Blu-ray February 28th, and a special premiere event was held at Shinjuku Piccadilly.
Special guests included chief director Yoshikazu Yasuhiko along with Mayumi Tanaka, Megumi Han, and Shuichi Ikeda, voices of Casval Rem Deikun, Artesia Som Deikun, and Char Aznable.
Mr. Yasuhiko, whose decade-long comic has finally been adapted for the screen, emotionally commented on a "[F]eeling of accomplishment. However, there's still a long way to go, and no one knows quite what lies in store. Mr. Ikeda spoke of "How long it had been since [he] last voiced Char", and of "[A]nxiety over how he would do."
Ms. Tanaka, who performs her first
Gundam
role, mentioned feeling "terrified" at times of her casting as Casval. "With how passionate Gundam fans can be, playing young Char is a crucial role. While I've played many young boys over the years, Casval is especially reserved, and I was nervous that I'd let too much of other roles creep into him."
Ms. Han, who plays Casval's younger sister Artesia, noted that "I absolutely had to make sure that, when Sayla appears in the future, viewers think 'I could see a bit of this in Artesia.' It required a lot of thought."
When prodded for information on the second chapter. Director Yasuhiko let slip that "Mr. Ikeda will be playing Casval from age 15, after his voice changes." However, Ikeda himself noted that, when he auditioned for the role of young Casval, even he "knew it just wasn't right."
Finally, the guests left us with a few special comments.
Megumi Han
"The Origin is a tale of encounters and partings, love and sorrow and sadness; all the emotions we feel in our own lives. I hope that you'll all continue in your enthusiasm."

Mayumi Tanaka
"Everyone else here today is like a Gundam pro, but I'm still just an amateur getting started. I hope we'll be able to invite in people who know of Gundam but don't know Gundam, and even people completely new to it."

Shuichi Ikeda
"Amuro, of course, came up even ahead of schedule. In the second part, I'll be playing Casval at age 15. I hope I'll be able to bring you him as a fresh new role."

Yoshikazu Yasuhiko
"I know many of you have stuck with me for thirty-odd years, but I'd also like to get some fresh blood in rather than just keeping on holding reunions. The Origin is built around the question, 'What is Gundam?' Its going to be a marathon haul to nail that down, but I think that at the least we've all gotten started on the same footing."
Toru Furuya, voice of Amuro Ray, was also present in the audience, and Director Yasuhiko joked "Furuya, you're in on this too, so you'd better be able to pull off your teen voice again!", to which Mr. Furuya gave the only response he could or that the audience would accept: "I've got this!"
While the first part has only just hit screens across Japan and worldwide, anticipation is already high for its followup.
Mobile Suit Gundam The Origin I: Blue-Eyed Casval
will be screened through March 13th in 13 theaters across Japan as part of an exclusive two-week showing. It's also available on advance theatrical Blu-rays and paid streaming, so don't miss it!
●●●
A range of Gundam merchandise is also on display at Shinjuku Piccadilly. Come to the theater and see it for yourself!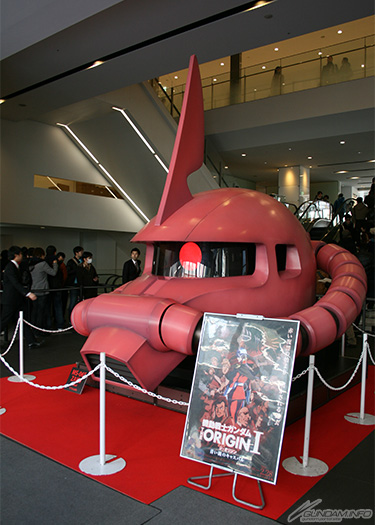 ▲ A 1/1 Char's Zaku head appeared at entrance level!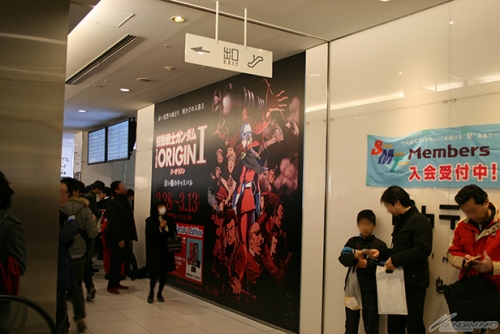 ▲ Gigantic posters were on display in the third-floor lobby. Merchandise was there to be seen, too!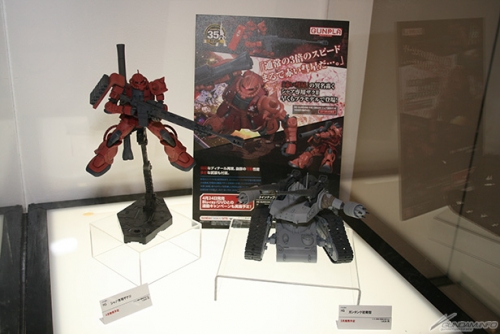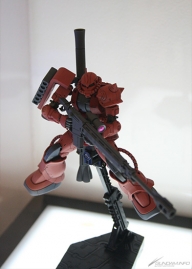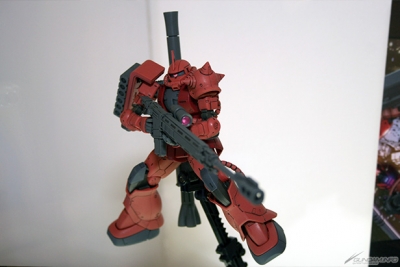 ■ HG 1/144 CHAR'S ZAKU Ⅱ April 2015 / ¥1,836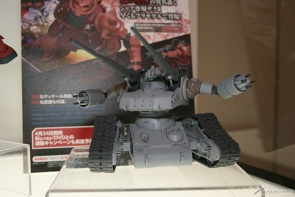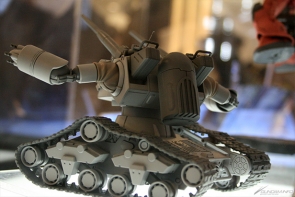 ■ HG 1/144 GUNTANK EARLY TYPE May 2015 / ¥1,836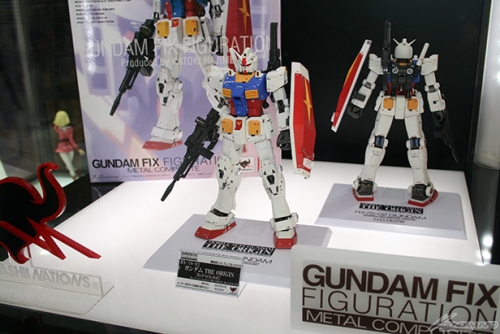 ■ GUNDAM FIX FIGURATION METAL COMPOSITE RX78-02 GUNDAM THE ORIGIN [Re:PACKAGE] April 2015 / ¥15,984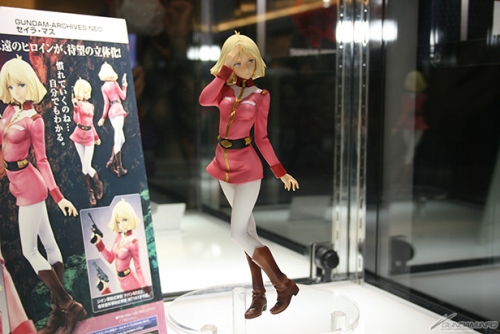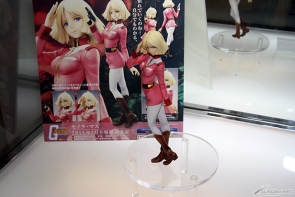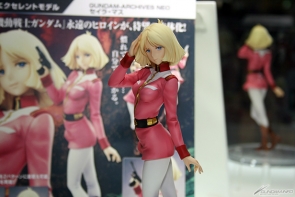 ■ EXCELLENT MODEL RAHDXG.A.NEO SAYLA MASS July 2015 / ¥9,720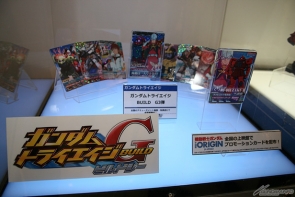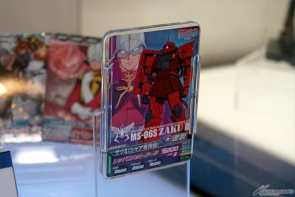 ■ Gundam TryAge Build G Set 3 Available now / ¥100 per play
Pick up a promo card!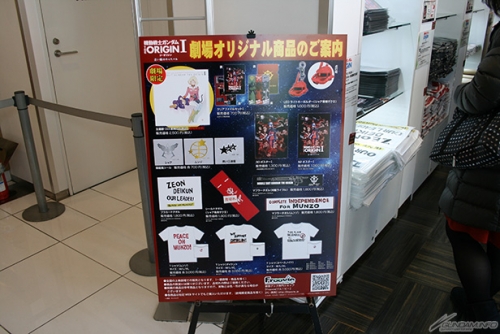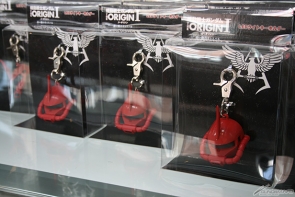 ▲ The Origin goods were also on display at the store on the third floor!
※本文中、一部敬称略
(GUNDAM.INFO Editorial Staff)
Activez les cookies pour voir les articles recommandés