27 février 2015
A "Gundam The Origin" staff talk show is slated to be held March 10th at Shinjuku Piccadilly!
Production secrets straight from director Imanishi! Tickets go on sale March 3rd!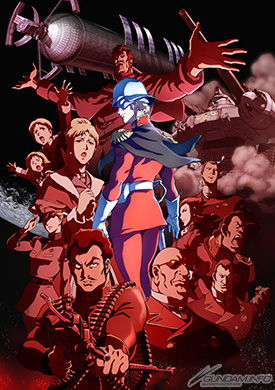 A staff talk show for
Mobile Suit Gundam The Origin I: Blue-Eyed Casval
, in theaters now, will be held March 10th at Shinjuku Piccadilly in Tokyo.
Guests are slated to include director Takashi Imanishi, chief animation director Hiroyuki Nishimura, chief mechanical animation director Takuya Suzuki, and producer Osamu Taniguchi.
See behind the scenes of
Gundam The Origin
from a range of different angles - and if you're lucky, leave with a special present from the staff!
Admission is ¥1,300. Presales open at 6:00 PM on March 3rd from the Shinjuku Piccadilly website.
Tickets will be available in person at the theater if seats remain unbooked through opening on March 4th.
Mobile Suit Gundam The Origin staff talk show screening
Date
9:00 PM, March 10th, 2015
Venue
Shinjuku Piccadilly
(3-15-15 Shinjuku, Shinjuku-ku, Tokyo)
Guests (scheduled)
Takashi Imanishi (director)
Hiroyuki Nishimura (chief animation director)
Takuya Suzuki (chief mechanical animation director)
Osamu Taniguchi (producer)
Program
9:00–9:30 PM: talk show
9:30–10:35: screening


* A drawing for presents will also be held.

Tickets
[Admission]
¥1,300


* Advance tickets not accepted.



[Online sales]
Open 6:00 PM, March 3rd
Reservable from the Shinjuku Piccadilly HP

[Box office]
At theater opening March 4th


* Only if supplies remain.
* As this is a special event, coupons and shareholder certificates are not accepted.
* Only credit and mobile payment (at participating theaters) accepted for online purchases.
* Reservations will not be accepted by phone.
* Limit 4 tickets per customer.
* Resale of tickets is not permitted.
* Refunds and seat changes will not be issued.
* Reserved seating only. Only tickets for the staff talk show showing will be accepted.
* Attendees must arrive before the show begins.
* Guest list subject to change without notice.
* Photography (including phones) and recording is forbidden.
* Please refrain from bringing photography equipment.
* Event footage or photography may appear in news coverage.
* Full purchasing details available on Shinjuku Piccadilly's website.
■ Char's Premium gives away ten pairs of platinum tickets!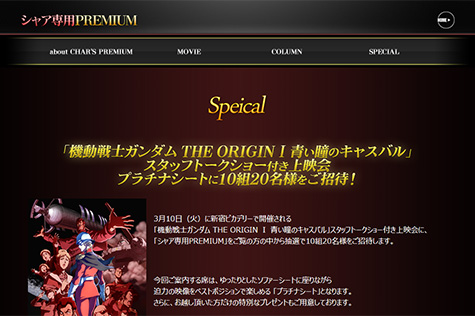 The "Char's Premium" site doesn't just give you a premium look at Char's style—it can also give you and a friend the best, and comfiest, seats in the house.
Enjoy a luxurious moment in an unparalleled theater, complete with exclusive gifts.
Enter by midnight on March 2nd.
▼
Char's Premium
http://char-senyou.net/
Activez les cookies pour voir les articles recommandés