"What is 'Gundam', anyway?" This simple (?) question is answered in our eighteenth casual weekly column just for new fans!
by Ema Baba
 Peeking through the stone arch even though today isn't a solstice, here's a 18th super-simple column for new Gundam fans!  
Part 1
was Gundam faces and coloring, and then
part 2
was masked men and Haro.
Part 3
was all about the Universal Century,
part 4
was mobile suits,
part 5
took on MSVs, and
part 6
covered the "Zaku" and "GM",
part 7
took on parts swapping,
part 8
was an example of mobile suit R&D,
part 9
was all about the women of the first
Mobile Suit Gundam
series,
part 10
focused on Gundam's "big brothers",
part 11
touched on amphibious mobile suits,
part 12
introduced some middle-aged men, and parts 13 and 14 were the
first
and
second
parts of our look at Gundam TV themes, parts
15
and
16
took on Gundam's 'Gunpla' plastic models, and
parts 17
was our first SD Gundam feature; this week we've got one more really iconic piece of Gundam.
 Since their introduction as Gashapon toys in 1985, SD Gundam's cute characters and the energetic worlds they inhabit have become nearly as popular as Gundam proper.
 Last time in part 17, we saw the birth of SD Gundam and the BB Senshi model kit series. In part 18, we'll look at how SD Gundam made the leap to the screen!
Part 1
What makes a SD Gundam? Deep Gundam parodies, with unique characters and stories!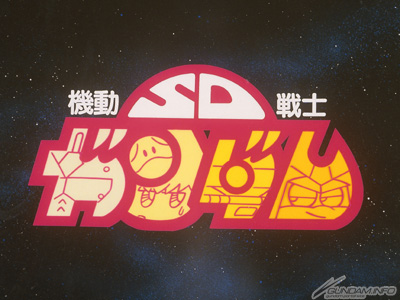 Let's begin at the beginning:
Mobile Suit SD Gundam Mk-I
, released in March of 1988. The first-ever SD Gundam animation project, this was originally planned as a home video release, but parts one and two were screened alongside
Mobile Suit Gundam: Char's Counterattack
in theaters. (All three parts were released on video that May.) The SD Gundam boom was already in full swing by 1988, but I think it's safe to say that this solidified its popularity!
  Planned as an (official) Gundam parody, and using the same actors as the "real thing", it's hard not to feel the quality and enthusiasm emanating from each scene.
If I have to point at a few favorite moments...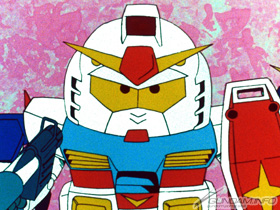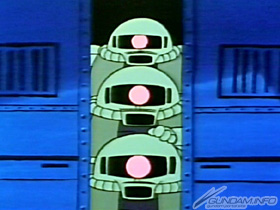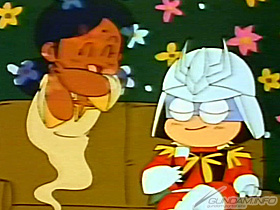 The first part features loads and loads of fan-favorite mobile suits as SD characters. There's fast-paced flyswattersmanship (!) in the "combat" scenes, goofy eyecatches with an actual shout of "eyecatch", and Lalah's guest appearance as a ghost who
can't
see time. Honestly, just going back to the laid-back '80s is wonderfully fresh these days.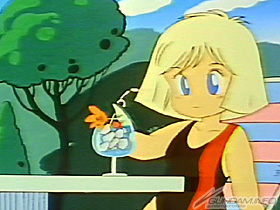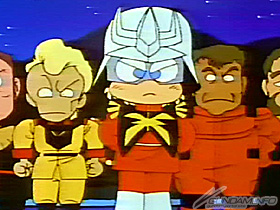 Part 2 moves on to include Zeta Gundam and ZZ Gundam. Our three leads compete to lure guests to their (massive head-shaped!?) resorts. The girls of Gundam who come to relax (of course, SD versions of Gundam's leading ladies!) are likewise fought over by Judau, Kamille, and Amuro. Their competition drives the nearby Zeon Hotel to the brink of bankruptcy. Then, Char and Zeon's mobile suits hatch a plan to win customers back... We've launched into a world of humor far-removed from Gundam as we knew it. One with shower scenes and swimsuits! (All in SD, of course...) Char's forces, driven by their jealousy, even shift back to normal proportions in battle!? Before returning to SD mode. (But this is a good thing!)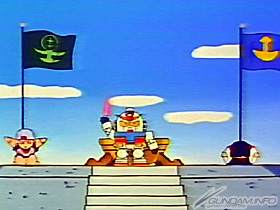 The third part casts Gundam, Zeta, and ZZ characters, humans and robots both, in a massive athletics festival. After the ceremonial torch is lit with a beam saber, we cut to Char's unbiased (!?) commentary in a survival marathon with events like the 50-yard dash or shotput (using Haros!) Sayla's perfect performance in gymnastics gives way to the Zeon National Ballet's finest, an Agguguy in a ribbon who'll drive the crowd wild one way or another... No matter what, you'll never guess what happens next in this episode. It leaps beyond the bounds of pure parody to be appreciated on its own.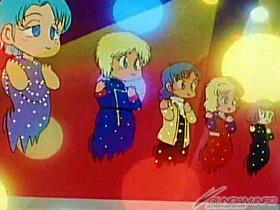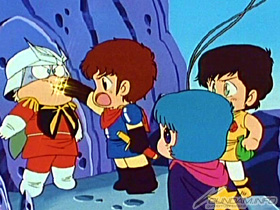 In June 1989,
Mobile Suit SD Gundam Mk-I
was followed with
Mobile Suit SD Gundam Mk-II
. It, too, was divided into three parts.
  The first is a revue held inside a space colony. The gorgeous, alluring (!?) woman of Gundam put on a sexy performance. (
Ed: Well, I'd call it a haunted house, but okay.
) Their song's nonsensical lyrics also serve to amaze fans.
 While the second part is built around Gundam episode title puns, the sheer zest with which those puns are embraced is enough to entertain even the newest fan.
 The third part stars swordsman Amuro, wizard Kamille, and thief Judau as heroes who set out to rescue a kidnapped princess from the evil Char who lurks in the Zeon Mountains.
 Packed with all the terrible puns oldschool RPG fans will remember (maybe) fondly, this episode will fill you with nostalgia.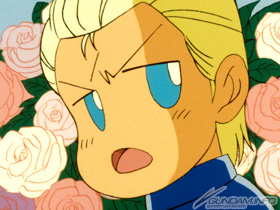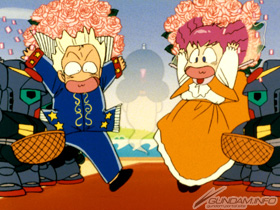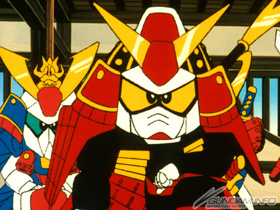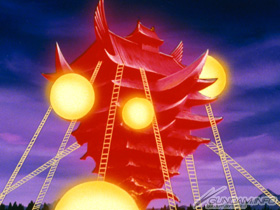 With these two hits driving SD Gundam's popularity, a third title,
SD Gundam's Counterattack
, was produced for theaters in 1989.
  When the elite Zeta Academy for Girls and the Nu Boys School student governments (led by Haman and Char, respectively) combine to hold a school festival, bad boy Amuro from Counterattack Academy crashes the party. The choral performance by the cast was included on the soundtrack CD, and is one of the precursors to modern image songs and character songs.  
SD Sengokuden: Abaowaku-jo
was the first anime in the SD Sengokuden series featuring the samurai armor-clad Musha Gundam. The Gundam Army clashes with the forces of the Yamisyougun for territory at Abaowaku, a fortress which appears only once every 333 years, in the comical manner than SD is best at.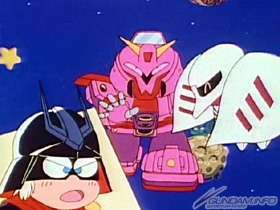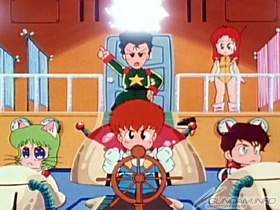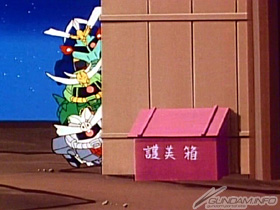 The third OVA,
Mobile Suit SD Gundam Mk-III
, was released in March 1990.
 In its first part, the space rangers of Argama pursue space bandit Char, a notorious collector of rarities.
  The second part covers Onmitsu Gundam's invasion of the Yamisyougun's massive mechanical fortress. The third part, split into Ten, Chi, Shin, and Ri mini-segments, chronicles the battles of the Five Gundams and the Three Zakuto Brothers. (There's a significance to that title. Maybe your dad knows?)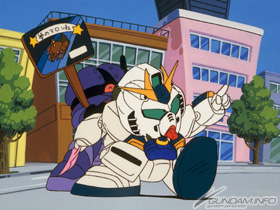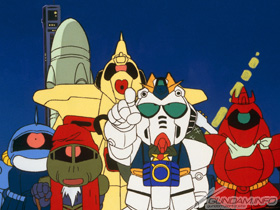 The fourth OVA,
Mobile Suit SD Gundam Mk-IV
, came out in September of 1990.
  Starring Acguy, tour guide for the ramshackle Maron Company, we see his travails working with the honest-seeming but secretly shady νGundam and a bevy of other unique mobile suits, full of personality. The comedic twist comes when company owner Qubeley (alluring yet terrifying in her red heels and distinctive voice!) ships them on a tour to the "real world" of Gundam! We see scenes from Gundam previously only encountered in fans' imaginations, like rare mobile suits in action and the vertical cannon barrages during the defense of Jaburo.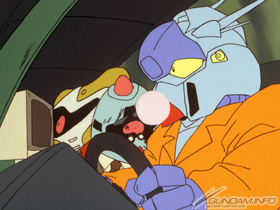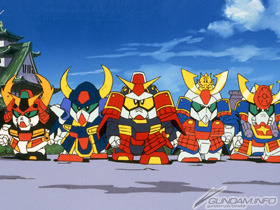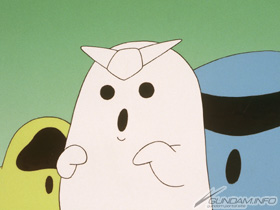 Fifth in the OVA series, and last in today's column, is
Mobile Suit SD Gundam Mk-V
, which was released in October of 1990. Its first part stars a ReGZ mover, tasked with moving the world's most valuable Buddha statue from a museum while defending it from thieves and bandits.
 Next, the five Gundams discover and destroy Yamisyougun's machinations and machinery in the deserted village of Jaburo.
  And finally, there's a surreal but relaxing tale of the creation of the SD Gundam world, told in a mysterious language. Are they discussing why they're so soft and pokable, like a piece of mochi? Mysteries only SD characters can comprehend? Either way, this avant-garde (?) piece pushes freedom and expression to their limits in a way that only SD Gundam can.
 And that's it for our eighteenth column, "SD Gundam, part 2"! This week we've gone over just a liiiiiiittle bit of SD Gundam on video.
 When we come back, we'll talk about SD Gundam again, and look at its later shows and their unique worlds. You'll see all the way up to the newest TV series, and maybe a little something extra!
 Oh, isn't Gundam just so fascinating?
 Well, well, well, well, well, well, well, well, well, well, well, well, well, well, well, well, well, well, that's it for this week. Next week we'll be taking another laid-back look at what makes Gundam Gundam!
[Author profile]
Ema Baba
Scriptwriter. Troublemaking scenarist.
Learning more every day to teach you about the fun of Gundam!
Activez les cookies pour voir les articles recommandés