9 décembre 2015
The MX4D Gundam Unicorn episode 7 comes to Toho Cinemas Kawasaki on December 12th!
Tickets available beginning two days in advance!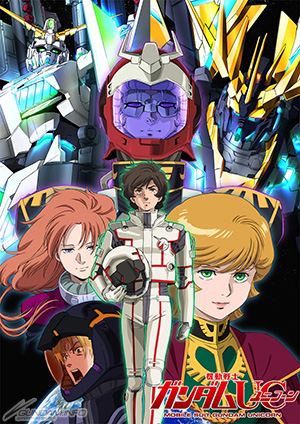 More dates for the nationwide MX4D screening of
Mobile Suit Gundam Unicorn
episode 7 have been announced, with the Toho Cinemas Kawasaki run now slated to open December 12th.
Tickets will be available online and at box offices two days before each screening. Admission is ¥2,800.
■
Mobile Suit Gundam Unicorn episode 7 MX4D screenings
Date
Theater
Admission
November 27th
Toho Cinemas Shinjuku
(3F Shinjuku Toho Bldg., 1-19-1 Kabukicho, Shinjuku-ku, Tokyo)
¥2,800
(tax included)
Toho Cinemas Roppongi Hills
(Roppongi Hills Keyakizaka Complex,
6-10-2 Roppongi, Minato, Tokyo)
Toho Cinemas Lalaport Fujimi
(3F Lalaport Fujimi, 1-1313 Yamamuro, Fujimi City, Saitama)
¥2,600
(tax included)
November 28th, 2015
Toho Cinemas Konan
(2F Cinema Town Konan, 1-25-1 Chikkoshinmachi, Minami-ku, Okayama, Okayama)
December 1st, 2015
Toho Cinemas Utsunomiya
(Bell Mall, 6-5-1 Yoto, Utsunomiya, Atsugi)
December 8th, 2015
Toho Cinemas Lalaport Yokohama
(3F Lalaport Yokohama, 4035-1 Ikonobecho, Tsuzuki-ku, Yokohama, Kanagawa)
¥2,800
(tax included)
December 10th, 2015
Toho Cinemas Lalaport Funabashi
(3F Lalaport Tokyo Bay West, 2-1-1 Hamacho, Funabashi, Chiba)
¥2,600
(tax included)
December 12th, 2015
Toho Cinemas Kawasaki
(7F Dice Bldg., 8-banchi, Ekimaehoncho, Kawasaki-ku, Kawasaki, Kanagawa)
¥2,800
(tax included)
TBD
Toho Cinemas Namba
(3-8-9 Namba, Chuo-ku, Osaka)
TBD
Toho Cinemas Nishimiya OS
(#501 Hankyu Nishimiya Gardens, 14-2 Takamatsucho, Nishimiya, Hyogo)
(as of December 10th)
* Dates will be announced on the theaters' websites when confirmed.
MX4D (MediaMation MX4D™) designed by MediaMation in Los Angeles, California at the heart of the film industry, is a patented attraction-style 4D theater system that's even more immersive than 3D.
Seats move on three axises in response to the film, and eleven effects including wind, mist, aroma, strobe lighting, smoke, and vibration excite the senses, turning the everyday moviegoing experience into a new variety of live entertainment.
Enjoy the first-ever MX4D Gundam screening, a version of
Gundam Unicorn
previously only available at the Tokyo International Film Festival!
* Les dates liées aux produits et aux services listés seront fixées au Japon.
Puisque les dates varient selon les lieux, veuillez consulter notre site officiel ou le magasin le plus proche pour plus d'informations.
Activez les cookies pour voir les articles recommandés