27 octobre 2015
Mobile Suit Gundam Thunderbolt, Yasuo Ohtagaki's new perspective on the One Year War, to be adapted as an anime!
Amazing mecha, rugged characters, and stunning combat sequences, soon in motion!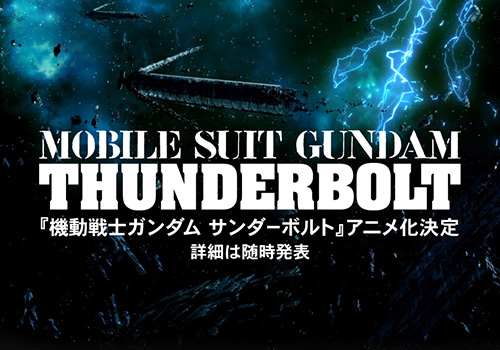 Mobile Suit Gundam Thunderbolt
, a comics series running in Big Comics Superior, will be made into an anime, and the teaser site is now open!
The series, by master of space comics Yasuo Ohtagaki, began in March of 2012 and tells the store of the "Thunderbolt Sector", a poorly-charted region of space littered with the wreckage of destroyed colonies and sunk ships.
Five collected volumes are currently available, with a sixth coming October 30th. Models of several mobile suits from
Thunderbolt
are available as part of Bandai's HG line.
A lineup of rugged characters like ace pilots Io Fleming and Daryl Lorenz pilot realistic robots through stunning combat sequences. What will we see in the anime?
Stay tuned for details!
▼
Mobile Suit Gundam Thunderbolt teaser site
http://gundam-tb.net/
* Les dates liées aux produits et aux services listés seront fixées au Japon.
Puisque les dates varient selon les lieux, veuillez consulter notre site officiel ou le magasin le plus proche pour plus d'informations.