4 février 2015
Get a sneak peek at G-Reco episode 19, premiering late night tonight at 1:49 AM!
A new Gundam makes its debut in episode 19!

Director Yoshiyuki Tomino's new TV series
Gundam Reconguista in G
airs in the Animeism block on MBS, TBS, CBS, and BS-TBS.
The newest episode, will air at 1:49 late night tonight on MBS. Here's a sneak peek at episode 19!
Episode 19
Bellri and crew, aboard a supply ship charting a course for the Venus Globe space colony, are kept busy running marathons and inspecting their equipment. As they approach the colony, they're intercepted by a group calling themselves G-IT...
Writer: Yoshiyuki Tomino
Storyboard: Tomoaki Koshida, Minoru Yokitani
Episode director: Tomoaki Koshida
Animation directors: [Characters] Kenichi Yoshida [Mecha] Ikuo Kuwana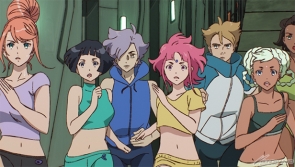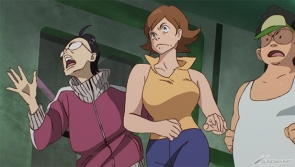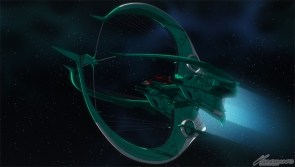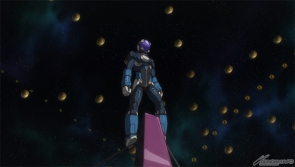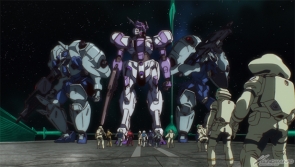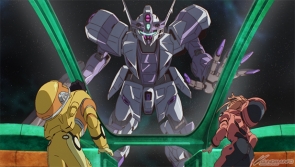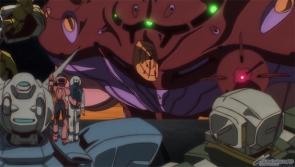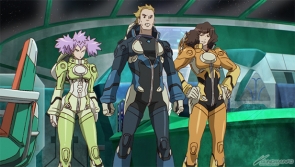 Gundam Reconguista in G
airs late Thursday night on MBS, late Friday night on TBS and CBC, late Saturday night on BS-TBS, and Monday evenings on BS11.
In addition to TV broadcasts, the newest episode also available for members on Docomo's all-you-can-watch anime streaming service "d Anime Store" each Sunday at noon and the all-you-can-watch anime/SFX service "Bandai Channel" the following Sunday at noon, and free for a week on the "Gundam Channel" app beginning the following Tuesday at noon.
Choose between broadcast and streaming—whatever fits your lifestyle!
■
Broadcast details

[Broadcast starting this October on MBS, TBS, CBC, and BS-TBS in the Animeism block]
MBS: 1:49 late night Thursdays
TBS: 1:55 late night Fridays
CBC: 2:37 late night Fridays
BS-TBS: midnight late night Saturdays
[Broadcast beginning January on BS11]
BS11: 7:30 PM Mondays
[Streaming starting this October on d Anime Store, Gundam Channel, and Bandai Channel]
d Anime Store
: noon Mondays
Gundam Channel
: free for one week beginning at noon Tuesdays
Bandai Channel
: noon Sundays
■
Staff

Director: Yoshiyuki Tomino
Character designer: Kenichi Ohnuki
Mechanical designers: Akira Yasuda, Ippei Gyoubu, Kimitoshi Yamane
Design works: Shigeto Koyama, Kinu Nishimura, Gouda Cheese, Pablo Uchida, Takumi Sakura, Ayumi Kurashima
Color design: Nobuko Mizuta
Art: Ariaki Okada
Music: Yugo Kanno
Sound director: Eriko Kimura
Planning and production: Sunrise
■
Cast

Bellri Zenam: Mark Ishii
Aida Surugan: Yu Shimamura
Noredo Nug: Minako Kotobuki
Klim Nick: Ryota Osaka
Luin Lee: Takuya Sato
Manny Ambassada: Ayahi Takagaki
Raraiya Monday: Yukari Fukui
* Les dates liées aux produits et aux services listés seront fixées au Japon.
Puisque les dates varient selon les lieux, veuillez consulter notre site officiel ou le magasin le plus proche pour plus d'informations.