15 octobre 2014
Get a sneak peek at G-Reco episode 4, premiering late night tonight at 2:04 AM!
Catch episode 4 on air or streaming!

The newest episode of director Yoshiyuki Tomino's new TV series
Gundam Reconguista in G
, which airs in the Animeism block on MBS, TBS, CBS, and BS-TBS, will premiere on MBS at 2:04 late night JST tonight.
Here's a sneak peek at episode 4!
Episode 4
The Capital Army, seizing on the space pirates' detention of Bellri and friends as a casus belli, deploy a Catsith squadron led by Dellensen.
Klim in his Montero leads a squadron of Grimoires from the
Megafauna
to fend off the attack. Bellri, recognizing his own complicity in the capture of Noredo and Raraiya, throws himself into the battle in the G-Self.
Writer: Yoshiyuki Tomino
Storyboard: Minoru Yokitani
Episode director: Shunichi Yoshizawa
Animation directors: [Characters] Satomi Kani [Mecha] Kenichi Takase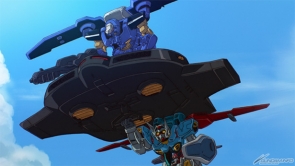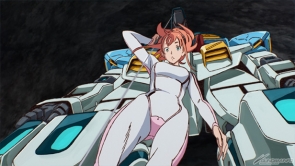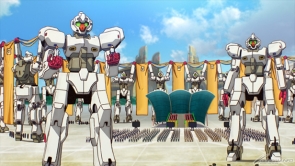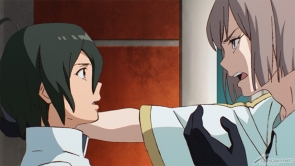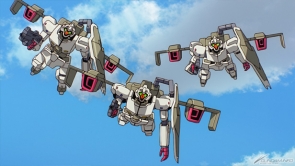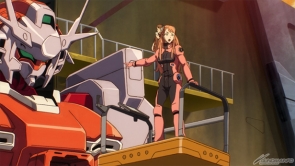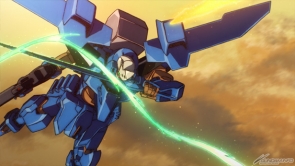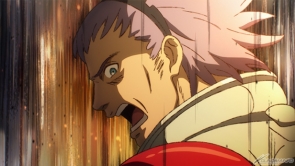 The newest episodes of
Gundam Reconguista in G
air late Thursday night on MBS, late Friday night on TBS and CBC, and late Saturday night on BS-TBS.
In addition to TV broadcasts, the newest episode also available for members on Docomo's all-you-can-watch anime streaming service "d Anime Store" each Sunday at noon and the all-you-can-watch anime/SFX service "Bandai Channel" the following Sunday at noon, and free for a week on the "Gundam Channel" app beginning the following Tuesday at noon.
Choose between broadcast and streaming—whatever fits your lifestyle!
■
Broadcast details

[Broadcast starting this October on MBS, TBS, CBC, and BS-TBS in the Animeism block]
MBS: 1:49 late night Thursdays
TBS: 1:55 late night Fridays
CBC: 2:37 late night Fridays
BS-TBS: midnight late night Saturdays
[Streaming starting this October on d Anime Store, Gundam Channel, and Bandai Channel]
d Anime Store
: noon Mondays
Gundam Channel
: free for one week beginning at noon Tuesdays
Bandai Channel
: noon Sundays
■
Staff

Director: Yoshiyuki Tomino
Character designer: Kenichi Ohnuki
Mechanical designers: Akira Yasuda, Ippei Gyoubu, Kimitoshi Yamane
Design works: Shigeto Koyama, Kinu Nishimura, Gouda Cheese, Pablo Uchida, Takumi Sakura, Ayumi Kurashima
Color design: Nobuko Mizuta
Art: Ariaki Okada
Music: Yugo Kanno
Sound director: Eriko Kimura
Planning and production: Sunrise
■
Cast

Bellri Zenam: Mark Ishii
Aida Surugan: Yu Shimamura
Noredo Nug: Minako Kotobuki
Klim Nick: Ryota Osaka
Luin Lee: Takuya Sato
Manny Ambassada: Ayahi Takagaki
Raraiya Monday: Yukari Fukui
Activez les cookies pour voir les articles recommandés