1er juin 2014
Bid farewell to Gundam Unicorn episode 7 with a special event at Shinjuku Piccadilly June 13th!
A ticket lottery begins on Lawson Ticket at 10 AM, 6/3!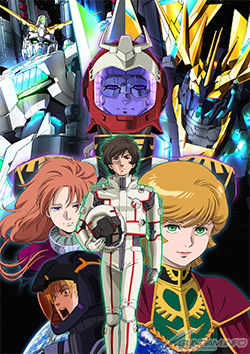 Mobile Suit Gundam Unicorn episode will close its 4-week, 35-theater run with a special cast and staff appearance at Shinjuku Piccadilly on June 13th.
The event, after the 8:25 PM screening, will feature guest appearanced by Koki Uchiyama (Banagher), Ayumu Fujimura (Mineva), Yuhko Kaida (Marida), writer Harutoshi Fukui, composer Hiroyuki Sawano, and director Kazuhiro Furuhashi. Join us in giving
Mobile Suit Gundam Unicorn
a fitting sendoff after its four-year run!
A ticket lottery can be entered on Lawson Ticket beginning at 10:00 AM on June 3rd, with general availability beginning at 10:00 AM on the 7th. Each ticket is priced at ¥1,800.
Mobile Suit Gundam Unicorn episode 7 Closing Event
Date
Friday, June 13th, 2014
After the 8:25 PM screening (approx. 10:30–11:00)
Venue
Shinjuku Piccadilly
(3-15-15 Shinjuku-ku, Tokyo)
Guests
Koki Uchiyama (voice of Banagher Links)
Ayumu Fujimura (voice of Mineva Zabi)
Yuhko Kaida (voice of Marida Cruz)
Harutoshi Fukui (writer)
Hiroyuki Sawano (composer)
Kazuhiro Furuhashi (director)


* Guest list subject to change or addition

Tickets
■ Price
¥1,800


* Service fee not included



■ Pre-request (lottery)
[Entry period] 10:00 AM, June 3rd–11:59 PM, June 4th, 2014
[To enter] Web / Mobile
[Payment] Credit card only
[Notification] 3:00 PM, June 6th
[Delivery] At Lawson (other than Lawson Store 100) and Mini Stop locations
[Quantity limits] 2 per person
[Service fee] ¥324 per ticket (¥216 service fee, ¥108 handling fee)

■ Normal sales
[Availability] 10:00 AM June 7th–6:00 PM June 12th
[Available via] Web / Mobile, Loppi (L-Code: 37540)
[Payment] Web/mobile credit card only, Loppi payments taken at register
[Quantity limits] 2 per person
Disclaimers
○ Attendees must arrive before the show begins.
○ Previously-purchased tickets cannot be exchanged.
○ Specific seating cannot be reserved.
○ Other fees may apply to purchase.
○ Camera usage, including phone cameras, and video and audio recording is nor permitted. Bags may be checked to ensure compliance.
○ Resale of tickets is not allowed.
○ Ticket refunds and modifications will not be issued.
○ Tickets must be reserved. No admission without ticket.
○ Guest appearances subject to change without notice.
○ Event footage or photography may appear in news coverage.
Activez les cookies pour voir les articles recommandés