9 septembre 2013
New Gundam Build Fighters characters revealed!
The singing, dancing Gunpla idol Kirara is here! Plus, messages from theme song performers BACK-ON and AiRI!
Details on new characters Kirara, Susumu Sazaki, and Monta Gonda have been announced for Gundam Build Fighters, which premieres on TV Tokyo affiliates October 7th.
[New Characters]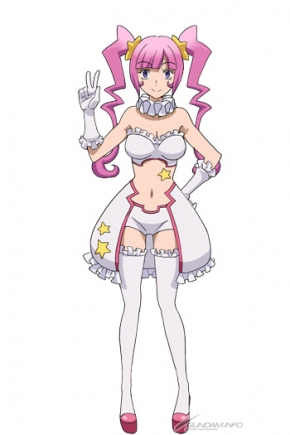 Kirara
An Akiba-type Gunpla idol who sings, dances, builds, and even joins in Battles. She's not very well known yet, but she works hard, hoping that her Gunpla Battles will bring her popularity.
Susumu Sazaki
A Gunpla Fighter who lives in Sei's neighborhood. He's constantly hatching plans to get a hold of Sei's high-powered Gunpla for his own Battling use. His overbearing personality means he doesn't have many friends.

Monta Gonda
A 10th-grader at Seiho Academy, and a member of the student government's executive council. He's also a member of the modeling club, and holds great respect for its president Tatsuya Yuki. He's hurt by his nickname of "Gorilla" .
Plus, we've got
special messages
from BACK-ON and AiRI, who were announced as the OP and ED performers at the Gundam Build Fighters Special Stage at Chara Hobby 2013.
Be sure to check them out!
* Les dates liées aux produits et aux services listés seront fixées au Japon.
Puisque les dates varient selon les lieux, veuillez consulter notre site officiel ou le magasin le plus proche pour plus d'informations.
Activez les cookies pour voir les articles recommandés