31 mars 2013
Chiaki Morosawa writes a brand-new drama CD! for Gundam SEED DESTINY HD Remaster Blu-ray Box 1!
It stars Yzak, Kira, and other SEED characters!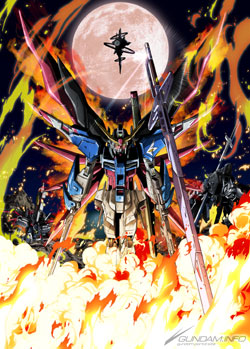 Mobile Suit Gundam SEED DESTINY HD Remaster Blu-ray Box vol. 1 will include an all-new drama CD "OMAKE quarters" written by series composer Chiaki Morosawa.
"OMAKE quarters", a series of 15-minute skits featuring SEED characters, will begin in box 1 with "Vol.1: Yzak no Yuutsu' starring Yzak Joule (Tomokazu Seki), Kira Yamato (Soichiro Hoshi), and Ezaria Joule (Kotono Mitsuishi).
For more info, stay tuned to the
Gundam SEED HD Remaster Project official site
and twitter!
* Les dates liées aux produits et aux services listés seront fixées au Japon.
Puisque les dates varient selon les lieux, veuillez consulter notre site officiel ou le magasin le plus proche pour plus d'informations.
Activez les cookies pour voir les articles recommandés