7 février 2013
See the Mobile Suit Gundam 08th MS Team Blu-ray Memorial Box extras!
Enjoy trailers going all the way back to the LD/VHS release!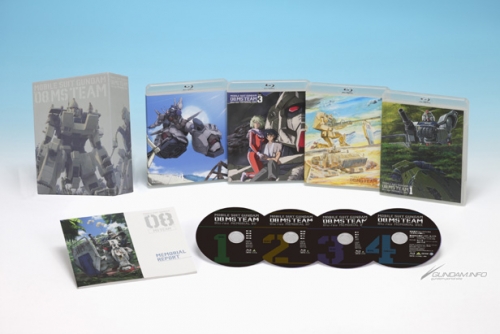 A complete picture of the Mobile Suit Gundam 08th MS Team Blu-ray Memorial Box, due out February 22nd, has been released! We've also got a list of all the on-disc extras. Here's what you can look forward to in two weeks!
■
Extra disc: "08th MS Team Data Archives"
The extra disc includes the pilot film, non-credit opening and ending, and a set of 17 TV ads and trailers, including those ran for the Laserdiscs and VHS tapes between 1996 and 1999 as well as for the 5.1 DVD boxset in 2007. All 8 versions of the LD vol. 1 ad, as well as the ad and trailer for this Blu-ray box, are included.
There's also a 1,600+ page storyboard collection with full storyboards from all 11 OVAs, Last Report,and the opening and ending.
Director Umanosuke Iida's dense, detailed art for episodes 6-11 sheds light on the production process. Fans won't want to miss any scene!
There's also an 69-piece art collection with LD, VHS, and DVD covers, magazine covers and pinups, and moreplus a digital copy of the liner notes released with the Last Resort LD. Reminisce with this art collection!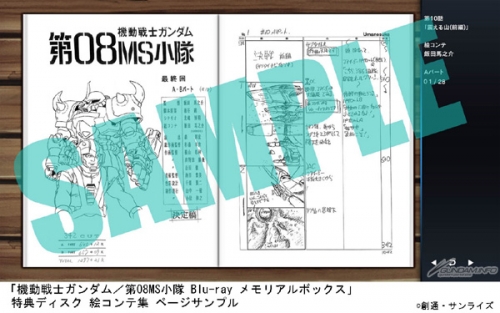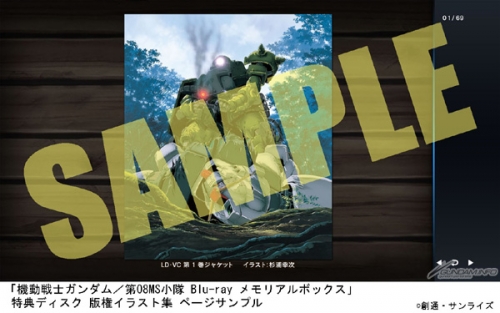 ■ "Memorial Report" booklet
This 44-page booklet includes designers' rough drafts of characters and mecha, their process to becoming the final versions, comments from 08th MS Team staff and cast, and rare production materials.
Mecha designer Kimitoshi Yamane recounts working with working with directors Takeyuki Kanda and Umanosuke Iida, and the process of Ez8's design. Also included is a rare interview with director Umanosuke Iida, who took up the series following director Kanda's passing, describing the story he wove, his approach to main character Shiro Amada, and his thoughts on the conclusion
A portion of the storyboard for episode 10.5, long-lost, is also revealed. Along with seeing a surviving Yuri, you can read the notes and imagine just how the episode would've played out. The screenplay by Ichiro Ookouchi for the new short film "Sanjigen to no Tatakai", perfect for getting a deeper grasp of the events of the film, rounds out the package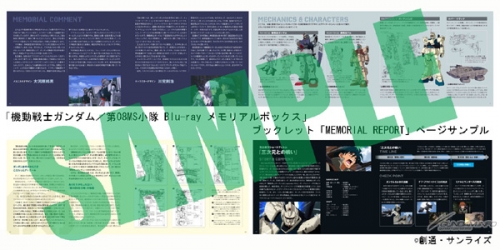 <Comments>
Kunio Okawara / Toshihiro Kawamoto / Koji Sugiura / Akitoshi Yokoyama / Katsutoshi Tsunoda / Toru Yoshida / Nobuyuki Hiyama / Kikuko Inoue / Mitsuko Kase / Kunihiro Mori / Tetsu Shimaiya / Hiroaki Kishijima / Takashi Imanishi / Koichi Inoue / Yoshitaka Kawaguchi
The Mobile Suit Gundam 08th MS Team Blu-ray Memorial Box, due out February 22nd, is the perfect way to relive your memories with video, illustrations, production material, and more! Don't forget to place your order!
* Les dates liées aux produits et aux services listés seront fixées au Japon.
Puisque les dates varient selon les lieux, veuillez consulter notre site officiel ou le magasin le plus proche pour plus d'informations.