30 janvier 2013
Bandai Channel welcomes "Super Robot Wars UX" with a 6-Part Launch Promo beginning February 5th!
See the shows in the game, and maybe even win the custom SRWUX 3DS XL!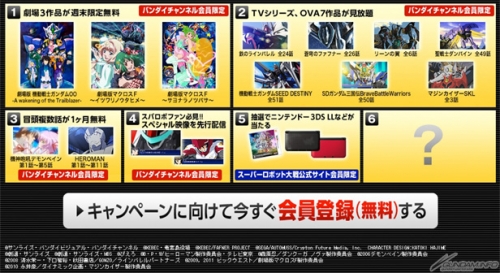 To welcome the new Super Robot Wars UX, slated for release on the Nintendo 3DS this March 14th, Bandai Channel launches a 6-Part Launch Promo at 5 PM on February 5th!
During this promo, you'll be able to watch some of the shows featured in Super Robot Wars UX for free, plus get a sneak peek at its second trailer.
Not only that, you'll have the chance to win a free Nintendo 3DS XL Super Robot Wars UX pack or other great prizes!
Experience the entire lineup, including a one-weekend appearance of Mobile Suit Gundam 00 A wakening of the Trailblazer and two other films. The promo ends March 31st!
"Super Robot Wars UX" 6-Part Launch Promo

[Dates]
5:00 PM February 5th–March 31st

[Events]
1) See three theatrical films in special one-weekend-only engagements!
2) Watch seven featured TV and OVA series all the way through!
3) Tune in for selected free episodes of Demonbane and Heroman!
4) Catch a sneak peek at the second trailer for Super Robot Wars UX!
5) Enter to win a Nintendo 3DS XL or Nintendo 3DS XL Super Robot Wars UX pack!
6) Plus more great bonuses later if you register now! More details will be announced later!

* Requires free Super Robot Wars Official Site Premium Members Club and/or free Bandai Channel membership.
* One reward code per person.
* Winners will receive prizes directly without further notification.
For more details, visit the official website.
http://www.b-ch.com/contents/feat_srw/
Super Robot Wars UX


Date: Thursday, March 14, 2013
Price: Standard and digital editions ¥7,140
Platform: Nintendo 3DS
Genre: Strategy RPG
Players: 1
CERO: B (Ages 12+)
* Les dates liées aux produits et aux services listés seront fixées au Japon.
Puisque les dates varient selon les lieux, veuillez consulter notre site officiel ou le magasin le plus proche pour plus d'informations.