9 juin 2011
The black and silver Robot Damashii Side MS Prototype Gundam can now be preordered from Premium Bandai!
The Prototype Gundam receives a rebuild loyal to the blueprints!
Orders for the Robot Damashii Side MS Prototype Gundam are now open on Premium Bandai. Orders will ship in October at a price of 3,660 yen.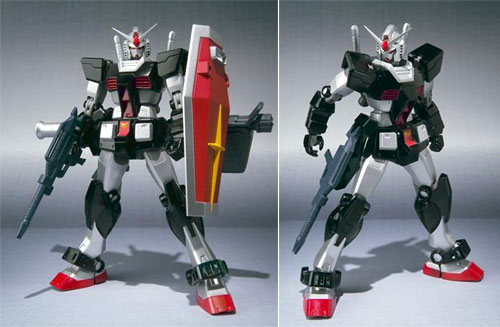 The key differences from the Gundam in design, including the coloring, arm indentations, side skirt shape, ankle vernier molding, and beam rifle are replicated. Plus, the slide-open holster doesn't just change the silhouette, but actually opens and closes, allowing the holstering of the beam rifle! For full effect, pair it up with the Robot Damashii Side MS Gundam with added hardpoints, now on sale!
■ Set contents
Figure / replaceable manipulators / beam rifle / beam saber x2 / overhand-swing beam saber / shield / hyper bazooka / javelin
Tamashii Web orders for October ship for a flat fee of 525 yen! Take advantage by ordering more than one item at a time!
* Les dates liées aux produits et aux services listés seront fixées au Japon.
Puisque les dates varient selon les lieux, veuillez consulter notre site officiel ou le magasin le plus proche pour plus d'informations.