17 juin 2022
The Second Teaser Visual and Main Staff of Mobile Suit Gundam THE WITCH FROM MERCURY Have Been Revealed! Info About the Synopsis, Characters, and New Mobile Suits are Here Too!
Directed by Hiroshi Kobayashi and series composition & script by Ichiro Ohkouchi!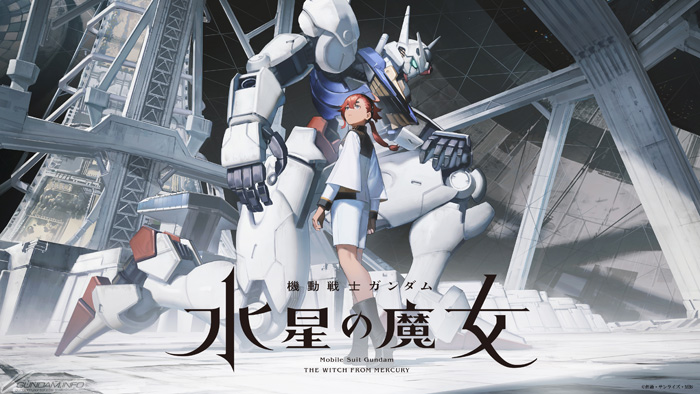 ▲This is the second teaser visual
The second teaser visual, main staff, synopsis, characters, and more Mobile Suits from the latest Gundam animated TV series Mobile Suit Gundam THE WITCH FROM MERCURY, which will start broadcasting from 5:00 PM every Sunday from October on the 28 MBS/TBS stations nationwide in Japan, have been revealed today.
This witch...
rides a Gundam

A.S. (Ad Stella) 122. An era when a multitude of corporations have entered space and built a huge economic system. A lone girl from the remote planet Mercury transfers to the Asticassia School of Technology, run by the Beneritt Group which dominates the mobile suit industry. Her name is Suletta Mercury. With a scarlet light burning in her pure heart, this girl walks step by step through a new world.

Planning & Production: Sunrise
Original Concept: Hajime Yatate / Yoshiyuki Tomino
Director: Hiroshi Kobayashi
Series Composition / Screenplay: Ichiro Ohkouchi
Original Character Design: Mogumo
Character Design: Marie Tagashira / Juri Toida / Hirotoshi Takaya
Mechanical Design: JNTHED / Kanetake Ebikawa / Ko Inata / Ippei Gyobu / Kenji Teraoka / Takayuki Yanase
Chief Mechanical Animators: Shinya Kusumegi / Kanta Suzuki / Seimei Maeda
Co-Director: Ryo Ando
Setting Resercher: Seiichi Shirato
Sci-Fi Resercher: Yuya Takashima
Mechanical Coordinator: Ryoji Sekinishi
Setting Cooperation: HISADAKE
Prop Design: E Wo Kaku PETER / ESUTHIO
Concept art: Lin Junbun
Technical Director: Yohei Miyahara
Art Designers: Tomoaki Okada / Kenichi Morioka / Kazushige Kanehira / Junichiro Tamamori / Yasuyoshi Uetsu
Art Director: Ayumi Sato
Color Setting: Kazuko Kikuchi
3DCG Director: Shinichi Miyakaze
Monitor Graphics Design: Kaori Seki (CAPSULE)
Photography: Shota Kodera
Editor: Kengo Shigemura
Sound Director: Jin Aketagawa
Music: Takashi Ohmama
Produced by: BANDAI NAMCO FILMWORKS / SOTSU / MBS
Characters and Mobile Suits
Five main characters and three Mobile Suits that will be featured in the series have been revealed.
■The protagonist of this series:


Suletta Mercury
A second-year student in the piloting department, who transferred to the school from Mercury. Suletta is timid and somewhat lacks communication skills. She is the pilot of the Gundam Aerial developed on Mercury.
■Protagonist's MS
Gundam Aerial
Miorine Rembran
An attractive and academically distinguished second-year student in the management strategy department. Miorine is the only daughter of Delling Rembran, the president of the Beneritt Group and chairman of the school's board.
She has a strong rebellious feeling towards her father.
Guel Jeturk
An heir to Jeturk Heavy Machinery, one of the group's three branches, and a third-year student in the piloting department. Guel has a rough temperament and is quick to anger. As the ace pilot of Jeturk House, he has absolute confidence in his own skills.
■MS piloted by Guel Jeturk


Guel's Dilanza
Elan Ceres
The top pilot backed by Peil Technologies, one of the group's three branches. A third-year student in the piloting department. Elan is a taciturn and solitary person, who doesn't open his heart to anyone in school. He has an interest to Suletta

■MS piloted by Elan Ceres


Gundam Pharact
Shaddiq Zenelli
An adopted child of the CEO of Grassley Defense Systems, one of the group's three branches. A third-year student in the piloting department who leads Grassley House. Shaddiq is a smooth-talking ladies' man with a carefree manner. Although still a student Shaddiq has shown his skill in business too, he is a candidate for next generation executive.

■MS piloted by Shaddiq Zenelli

Michaelis
Furthermore, the "PARCO x GUNDAM" CAMPAIGN, a project held in collaboration with PARCO Grand Bazaar, will be held from Friday, July 1st to Sunday, July 10th. GUNDAM NEXT FUTURE -LINK THE UNIVERSE-, an event where the Mobile Suit Gundam THE WITCH FROM MERCURY prequel PROLOGUE will be revealed for the first time, also takes place on Thursday, July 14th and Friday, July 15th.

・Check
this article
for information about the "PARCO x GUNDAM" CAMPAIGN
・Check
this article
for information about GUNDAM NEXT FUTURE -LINK THE UNIVERSE-
---

Activez les cookies pour voir les articles recommandés