4 juin 2020
La libération de "Mobile Suit Gundam Hathaway" est différée
Nous vous de connaître la date de publication internationale sur le site Web officiel et sur le support social officiel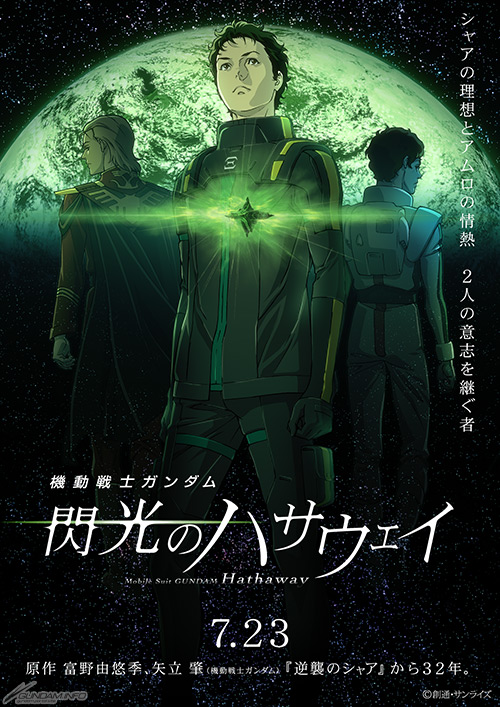 Merci pour votre soutien permanent.

« Mobile Suit Gundam Hathaway » a été planifié pour être publié le 23 juillet, le 2020 (jeudi et jours fériés) au Japon.Toutefois, dans les circonstances actuelles des nouveaux foyers de coronavirus, nous avons décidé de reporter sa mainlevée.

Pour tous ceux qui cherchent à ouvrir le film, un commentaire a été reçu de la société « Sunrise Inc. », du planificateur et du réalisateur de ce film de fonctionnalité.
To everyone, from SUNRISE INC.

First of all, we express our deepest sympathies for all those affected by the novel coronavirus (COVID-19) outbreaks.

Even though we've been proceeding with the preparations as "Mobile Suit Gundam Hathaway" was scheduled to be released on July 23rd, 2020 (Thursday and holiday), we've decided to postpone our launching of the movie due to the novel coronavirus outbreaks in Japan. We offer our heartfelt apologies to all of you who are looking forward to the release of the film.

As soon as the new release date is determined, we will announce it at the official website of "Mobile Suit Gundam Hathaway" as well as through all the official social media.

Again we sincerely apologize that we have to inform you of this postponement even though we've been doing our best to release the movie on schedule. All of our staff will continue to make every effort to create an even better work, as we're hoping the release of such movie is going to encourage all of our fans.

We would appreciate it if you could continue to support us.

June 4th, 2020

SUNRISE INC.

Nous vous de connaître la date de publication internationale sur le site Web officiel et sur les milieux sociaux officiels.


Mobile Suit Gundam Hathaway

【STORY】
—Do you know the Nejen?
If you know it, then I'll take you there—

The year is U.C. 0105. Twelve years have passed since the end of the second Neo Zeon War (Char's Rebellion). Even after "the Axis Shock," which seemed to indicate the future of humanity and the Universal Century, the world is still in a chaotic situation where intermittent military conflicts continue to break out. The Earth Federation government is more corrupt than ever, and its leadership has not only accelerated Earth's pollution, but also implemented an inhuman "Man Hunting" policy in which civilians are forcibly exiled to outer space.

The anti-Federation government organization "Mafty," led by someone called "Mafty Navue Erin," has taken a stand against the corruption of the Earth Sphere. Mafty carries out fierce acts of terrorism, assassinating high officials of the Federation government one after another, but it gains a certain level of support from the populace who are growing more opposed to the Federation government.

The person who calls himself "Mafty" and leads this organization is Hathaway Noa, the son of Bright Noa, an officer of the Earth Federation Forces who once participated in the One Year War. Hathaway himself joined the forces trying to stop Char's Rebellion. With firsthand knowledge of the ideals and ideologies of Amuro Ray and Char Aznable, he has become a warrior following in their footsteps, and plans to clear a path forward through armed resistance. His destiny, however, is drastically altered as he encounters the Federation Forces officer Kenneth Sleg and a mysterious young beauty named Gigi Andalucia.
* Les dates liées aux produits et aux services listés seront fixées au Japon.
Puisque les dates varient selon les lieux, veuillez consulter notre site officiel ou le magasin le plus proche pour plus d'informations.
Activez les cookies pour voir les articles recommandés