2 février 2015
Chapter 5 of A.O.Z. Re-Boot now available on Dengeki Hobby Web!
The March issue of Dengeki Hobby includes a pinup of the Fiver II!

The
Mobile Suit Zeta Gundam
side story "A.O.Z. Re-Boot: Gundam Inle" continues on Dengeki Hobby Web! Chapter 5, the third part of "Alice of Zeon", is now available on Dengeki Hobby Web.
Set in U.C. 0091 after the end of the First Neo Zeon War, the plot follows Re-Zeon forces which have regrouped on Mars under a woman proclaiming herself Supreme Commander Alicia Zabi and absorbed Titans remnants who fled the Earth Sphere.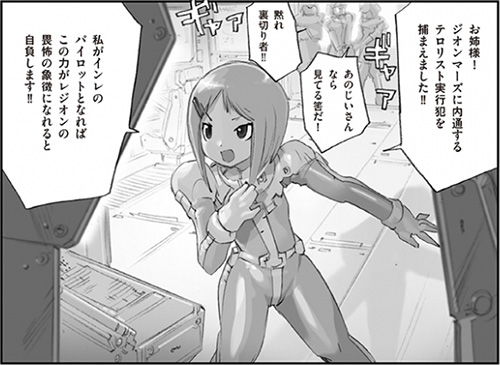 ▲ After dealing with last chapter's terrorist attack, Cynthia brags of her exploits to Alicia.
▼
Read the web comic on Dengeki Hobby Web!
http://hobby.dengeki.com/ebooks/19559/
■
The new issue of Dengeki Hobby features a pinup
of the "Fiver II"!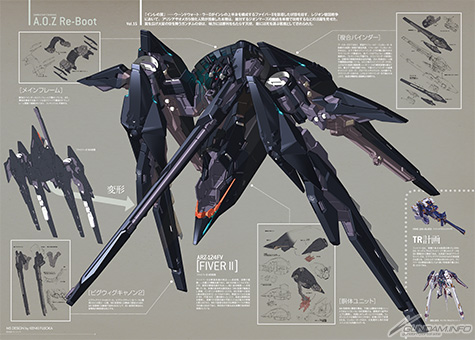 The March 2015 issue of Dengeki Hobby, on sale now, features a pinup of the "ARZ-124FV Fiver II" which makes up the upper body of Inle. The Woundwort-Rah II equipped with the Fiver II—a look at the Wings of Inle.
Don't miss this gorgeous pinup by Kenki Fujioka!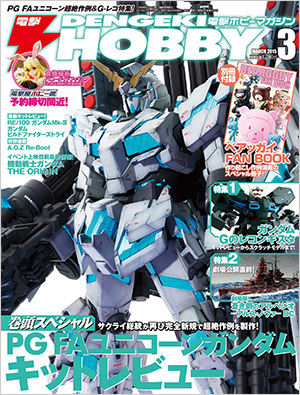 Dengeki Hobby Magazine
March 2015 issue
On sale now / special price ¥1,280
* Les dates liées aux produits et aux services listés seront fixées au Japon.
Puisque les dates varient selon les lieux, veuillez consulter notre site officiel ou le magasin le plus proche pour plus d'informations.
Activez les cookies pour voir les articles recommandés