9 janvier 2012
Newtype's February issue on sale now!
As Guilty Crown reaches its shocking twist, we have comments from 15 cast members!
Newtype February 2012 issue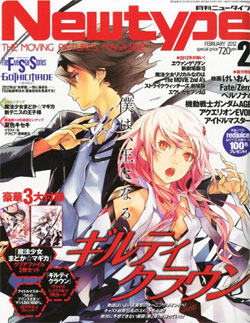 Special price: ¥720
■
Guilty Crown: 'I will become the King'
The story reaches its shocking twist!
Read comments by 15 cast members!
You'll never guess what's in store for S2!
■
Detailed articles
・ K-on! the Movie!
・ Fate/Zero
・ Persona 4
・ Mobile Suit Gundam AGE
・ Aquarion EVOL
・ iDOLM@STER
■
2012 roars in!
・ Evangelion You Can (Not) Undo
・ Lyrical Nanoha The Movie 2nd A's
・ Strike Witches the Movie
・ Eureka 7 AO
■
The Five Star Stories / Gothicmade
2012 will be the year of Mamoru Nagano!
Don't miss the FSS polling or the news flash!
■
Two huge pinups
・ Puella Magi Madoka Magica
・ New Prince of Tennis
■
New/Issue 4 pinup
'Natsu no Kiseki' Illustration: Sa Gravure: Aki Toyosaki
■
Three fabulous bonuses
・ Double Puella Magi Madoka Magica clear file set
・ Guilty Crown Weiß Schwarz promo card
・ iDOLM@STER/Uta no☆Prince-sama♪Maji Love 1000% 2012 desk calendar
■
100 readers receive a book card of redjuice's cover illustration!
Cover: Guilty Crown
©GUILTY CROWN COMMITTEE
* Les dates liées aux produits et aux services listés seront fixées au Japon.
Puisque les dates varient selon les lieux, veuillez consulter notre site officiel ou le magasin le plus proche pour plus d'informations.
Activez les cookies pour voir les articles recommandés