29 septembre 2011
What's your favorie scene? The Gundam Perfect File 'My Best Scene' voting ends October 3rd!
The most popular scene gets a new illustration! And one voter gets a prize!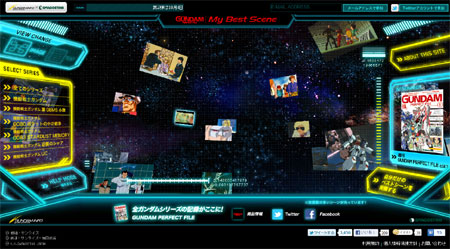 In the My Best Scene promotion, our readers choose their favorite scene from a shortlist pared down by DeAgostini's editors.
The winning scene will get a brand-new illustration, which will be given to one of the voters! Participants will receive an exclusive phone wallpaper, so be sure to vote!
During this phase, Mobile Suit Gundam, 08th MS Team, 0080, 0083, Char's Counterattack, and Gundam UC scenes are eligible.
Choose your own personal best scene from the selection, and place your vote!
The deadline for phase 1 is 11:59 PM on October 3rd! Hurry to the campaign page!
Phase 2 starts October 4th at midnight, so stay tuned for more info!
Gundam.info x DeAgostini Gundam Perfect File My Best Scene
⇒
http://gundam-mybest.jp/
Plus, beginning on the 11th Gundam.info will carry a special feature on the production of Gundam Perfect File's popular illustrations!
How do they catch the eye so well? Stay tuned!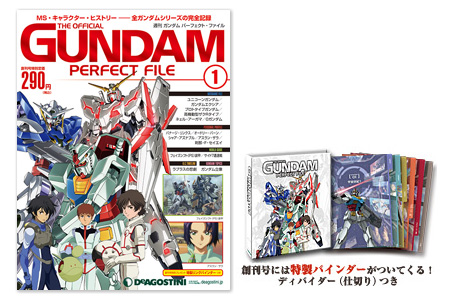 In Gundam Perfect File, the Gundam world built up over thirty years of TV from Mobile Suit Gundam to Mobile Suit Gundam UC and Mobile Suit Gundam AGE will be revealed in 180 issues and over 5,000 pages!
Add in movies, OVAs, model, games, and more, and the 'Perfect File' lives up to its name!
Issue 1 even comes with a free binder for sorting pages by series or era!
Shukan Gundam Perfect File
Price: first issue ¥290, all other issues ¥590.
Date: Tuesday, September 20, 2011
Day: Tuesdays (in most areas)
Length: 180 issues
Format: 14, 36pp
Retailers: Bookstores (in most areas), DeAgostini Japan webpage
Binders: ¥590 (set of two)
※ One binder included with issue 1
※ Each binder holds approximately 10 issues
Activez les cookies pour voir les articles recommandés