26 juin 2014
"Reconguista in G" fliers available at preview theaters! And wait, they've got even more info!?
If you'll be at a theater that will host preview screenings, don't miss your copy!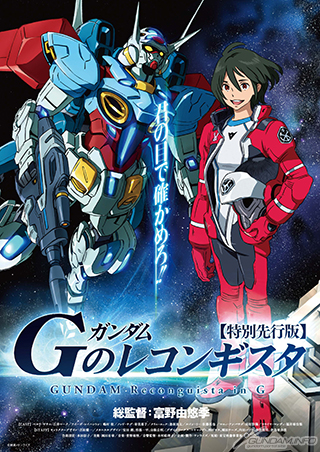 Gundam Reconguista in G
, the long-awaited new Gundam series by director Yoshiyuki Tomino, will be previewed in 13 theaters nationwide for two weeks beginning August 23rd, and special promo fliers are now available at each participating theater.
The trifold flier is packed with info on
Gundam Reconguista in G
—
maybe even some tidbits not revealed in the recent announcements.
If you'll be at a theater hosting a preview screening, be sure to pick up a flier!
Gundam Reconguista in G will air as part of MBS's "Animeism" block beginning this October.
See a special preview of episodes 1–3 beginning August 23rd in theaters and September 8th on the d Anime Store!
* Les dates liées aux produits et aux services listés seront fixées au Japon.
Puisque les dates varient selon les lieux, veuillez consulter notre site officiel ou le magasin le plus proche pour plus d'informations.