29 septembre 2011
Gundam Perfect Mobile celebrates its new design with free wallpapers!
To celebrate the redesign, RX-78-2 Gundam and Pixel Gundam wallpapers are free for download!

Namco Bandai Games's mobile site 'Gundam Perfect Mobile' was redesigned on September 28th. To celebrate this design, we're giving away free wallpapers!
To receive them, you must have a registered account.
The free wallpapers are 'RX-78-2 Gundam' and 'Pixel Gundam'.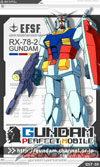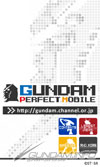 There's also daily Gundam quizzes, prize drawings, and plenty of other material for Gundam fans, so be sure to check it out!
Gundam Perfect Mobile
iMode: Menu -> Wallpapers / MachiChara -> Animation -> Gundam Mobile
Yahoo! Keitai: Menu -> Wallpapers / Customization -> Anime / Comics -> Mobile Suit Gundam -> Gundam Mobile
EZweb: Top Menu -> Category Search -> Wallpaper / Character -> Anime / Comics -> Gundam Mobile
(compatible with feature phones and smartphone)
http://gundam.channel.or.jp/

Activez les cookies pour voir les articles recommandés