31 mars 2011
SD Gundam Sangokuden has hijacked 'Fresh-Picked! Hobby Channel'
Features on the story and characters, and a special feature on the Blu-ray box bonus 'Diao Chan Qubeley'! Plus, Hobby Japan poster wallpapers available for download for a limited time!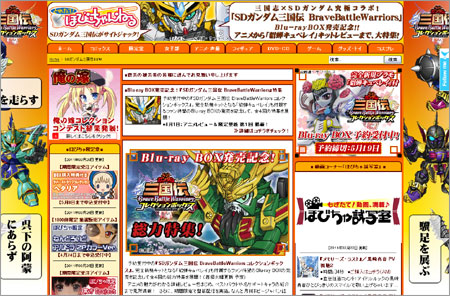 Both the SD Gundam Sangokuden BraveBattleWarriors TV series and movie have been assembled into the preorder-only SD Gundam Sangokuden BraveBattleWarriors Collection Box! Preorders close May 19th, with orders shipping June 14th. In keeping with this, starting from April 1st SD Gundam Sangoguden has hijacked the Fresh-Picked! Hobby Channel site.
The fourth update will reveal details on the story arc and characters, as well as reveal the exclusive plastic model packed with the Blu-ray box, Diao Chan Qubeley. Additionally, wallpapers based on Hobby Japan posters will be available for a limited time, starting with the popular Lu Bu Tallgeese! Find out more on Fresh-Picked! Hobby Channel!
◆
Fresh-Picked! Hobby Channel
⇒
http://hobby-channel.net/
■

SD Gundam Sangokuden BraveBattleWarriors Collection Box


Price : ¥ 36,750 (tax inc.)
Release Date: June 24, 2011
Pre-order Deadline: May 19, 2011
Currently Accepting Orders