18 juin 2014
The LED-equipped "Gundam Cosmic Light" candy toy launches in early November!
Translucent molding and lighting create a "new type" of candy toy!
Realistic proportions and LED-lit stands combine in the "Gundam Cosmic Light" series, coming early this November from Bandai's candy toy division.
Four different varieties will be available at supermarkets and convenience stores across Japan. Each boxed figure retails for ¥700 (tax not included).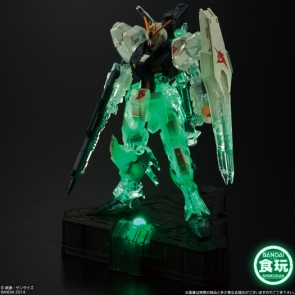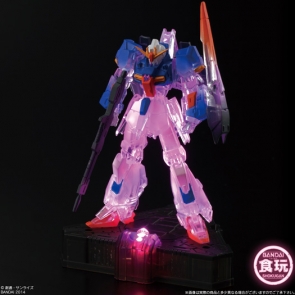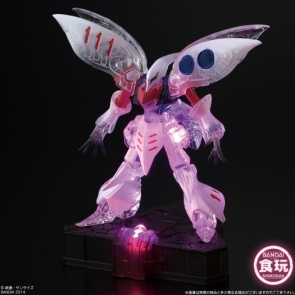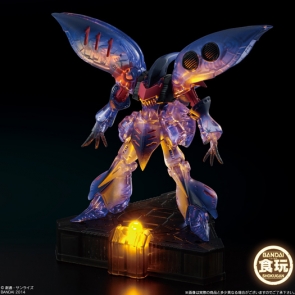 ■ GUNDAM COSMIC LIGHT on sale early November 2014 / ¥700 each
These 70mm (approx. 2") figures are molded in translucent plastic, given an inner glow by LEDs mounted in the stand unit. Recreate the eerie glow effect so common in the shows, or just enjoy an overall view from one direction.
The angles are mobile to allow for either a support-mounted flying pose or base-mounted standing pose. Joint parts are also supplied to combine multiple LED bases.
The Gundam Cosmic Light series sheds new light on Gundam with its use of LEDs.
[Set contents]
One painted figure (of 4)
○ ν Gundam
○ Zeta Gundam
○ Qubeley
○ Qubeley Mk-II
LED base unit
Gum (soda flavor)
Orders for a full box of 6, including at least one of each, are open on the Candy Toy Online Shop section of Bandai's official Premium Bandai shopping site.
For product details, visit the
Gundam Cosmic Light site
.
▼ Click here to order on Premium Bandai!

* Les dates liées aux produits et aux services listés seront fixées au Japon.
Puisque les dates varient selon les lieux, veuillez consulter notre site officiel ou le magasin le plus proche pour plus d'informations.
Activez les cookies pour voir les articles recommandés