18 mai 2014
Gundam TryAge adds the "Howl! Tri-Zeta" development mission May 19th!
The more you shoot down, the bigger the experience bonus starting 5/30!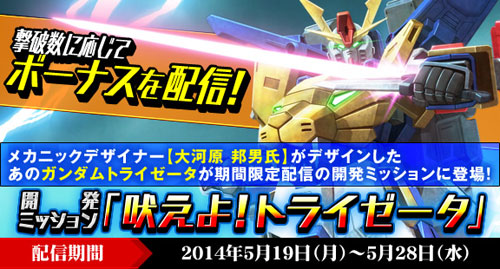 The digital card game Gundam TryAge will add the special "Howl! Tri-Zeta" mission for a limited time beginning May 19th.
Take on the "Gundam Tri-Zeta", designed especially for Gundam TryAge by Kunio Okawara! Win, and you'll be able to develop it as a Build MS suit.
Defeat the "Gundam Tri-Zeta" and add it to your collection!
The mission will be available through May 28th.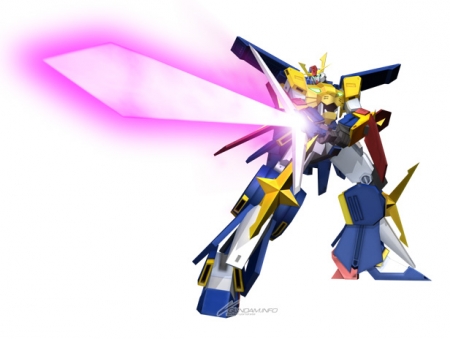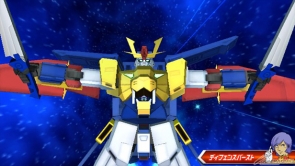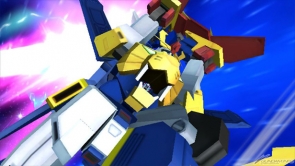 TryAge Original MS "Gundam Tri-Zeta"

▼ BUILD MS IF setting
Judau Ashta and his Gundam team, after landing on Earth, take heavy damage in battle against Principality of Zeon remnants. However, a chance meeting with an old man who calls himself "Doctor Gundam" leads to a repair effort combining parts from the destroyed Double Zeta and Zeta. With the addition of a mysterious special circuit given by the old man to Judau, the "Tri-Zeta" is complete!
Mechanical design: Kunio Okawara
■
"MS Experience Bonus" based on killcount begins 5/30!
From May 30th through June 8th, an MS experience bonus based on the total nationwide "Gundam Tri-Zeta" killcount will be awarded.
The more wins, the more experience you'll rack up: double for 15,000, or triple for 17,000 or more!
More info is available on the Gundam TryAge site's
Challenge Mission page
.
Digital card game Gundam TryAge




Build MS Set #6



In operation
100 yen per credit


*Players are guaranteed one card per credit.
* Les dates liées aux produits et aux services listés seront fixées au Japon.
Puisque les dates varient selon les lieux, veuillez consulter notre site officiel ou le magasin le plus proche pour plus d'informations.