6 novembre 2012
Which item will take the gold!? Tamashii Nations Award 2012 voting open now!
Gundam's Robot Spirits Nu Gundam and Banshee, and the Metal Build Freedom Gundam, are nominated!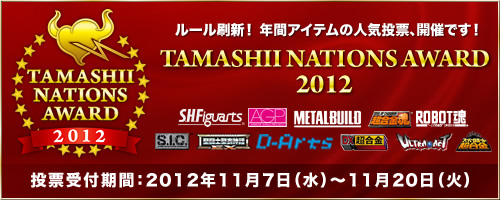 Voting for this year's "Tamashii Nations Award 2012" has started on Bandai's Tamashii Web.
The top 20 most-viewed standard releases from January 1st through October 31st have been nominated, incuding the Robot Spirits Nu Gundam, Robot Spirits Banshee, and Meta Build Freedom Gundam.
New, simpler rules this year do away with categories in favor of a general poll.
With so many great entries this year, it'll be hard to pick a winner.
Tell us your favorite of the 2012 Tamashii Web lineup!
Click here
for more info on the Tamashii Nations Award 2012.
* Les dates liées aux produits et aux services listés seront fixées au Japon.
Puisque les dates varient selon les lieux, veuillez consulter notre site officiel ou le magasin le plus proche pour plus d'informations.
Activez les cookies pour voir les articles recommandés