31 juillet 2012
Gundam SEED Destiny's lead two suits appear in Gashapon Senshi NEXT 09 in mid-August!
AGE-3 Orbital and Infinite Justice come with a 'NEXT Base' posing stand!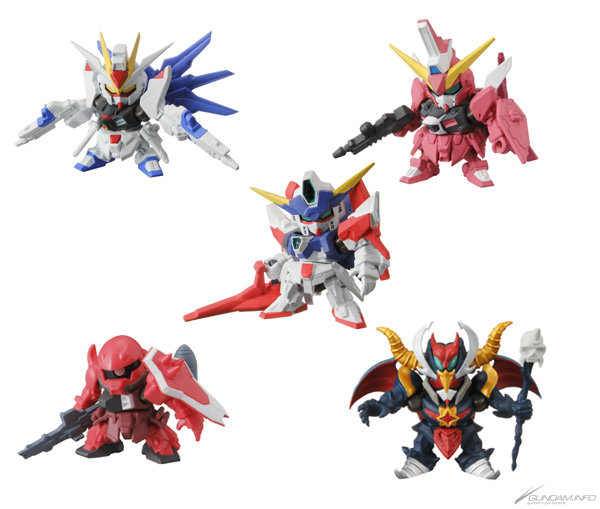 ■ Gashapon Senshi NEXT 09
Price: ¥200 each
Date: Mid-August 2012
Sold from capsule machines at toy shops nationwide

The newest Gashapon Senshi NEXT, evolving SD Gundam proportion, action, and coloring, have arrived!
The two lead suits from Gundam SEED Destiny, along with the Gunner ZAKU Warrior, will be included, plus Gundam AGE's AGE-3 Orbital and the Black Dragon from SD Gundam Gaiden!
The NEXT Base, a new stand for posing, will also be included with the AGE-3 Orbital and Infinite Justice.
■ Lineup (7 types)
Strike Freedom Gundam / Infinite Justice Gundam /
Gundam AGE-3 Orbital / Gunner ZAKU Warrior / Black Dragon

■ One per capsule!
* Release date varies by region and retailer.

* Les dates liées aux produits et aux services listés seront fixées au Japon.
Puisque les dates varient selon les lieux, veuillez consulter notre site officiel ou le magasin le plus proche pour plus d'informations.