25 septembre 2011
The deadline is almost here! Order your 'Robot Damashii G-3 Gundam (metallic coat)' by 4:00 PM, September 30th!
Its grey armor takes on a metallic sheen! Also includes two Hyper Bazookas!
The Robot Damashii Side MS G-3 Gundam (metallic coat ver.) from July's Tamashii Festival 2011 is now available by lottery from Premium Bandai. Orders will be taken only until 4:00 PM, September 30th.
The figure will ship in October at a price of ¥3,500.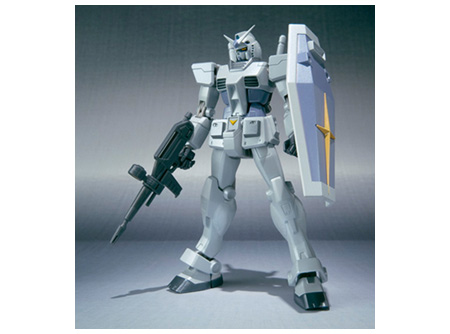 The metallic coat G-3 Gundam appears, armed with double bazookas! Its full-body grey armor is done in metallic paint. Along with a pair of hyper bazookas, its body is peppered with hardpoints so you're free to mount its weapons however you like!
■ Set contents
Figure / beam rifle / 2x beam saber / beam saber effect parts / 2x hyper bazooka / beam javelin / Gundam shield / 4x replaceable manipulator set
Purchasers must register a Premium Bandai account and enter the lottery on the item page
by 4:00 PM on the 30th
. A drawing will be held to determine who will be able to purchase this figure.
Winners will be notified within a week of the drawing.