30 juin 2011
Carddas SD Gundam Ultimate Battle vol.2 available for preorder now!
SD Gundam Ultimate Battle releases its second set! More new SD Gundams like set 1's Freedom and Unicorn!
SD Gundam Ultimate Battle vol. 2, the second of the SD Gundam Carddas best-of sets, is available in limited quantities from Bandai's shopping site Premium Bandai. This set will be available for order for a limited time beginning July 1st for ¥7,140.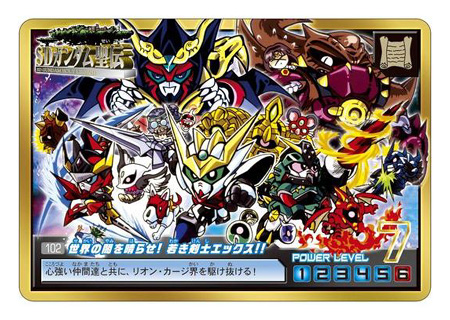 Ultimate Battle, truly worthy of the "ultimate" name, gathers the best characters and over 20 new card images from "normal", "Musha", "Gaiden", "Command", "SDV", and "Gundolander" worlds are combined in a set that will stir any fan's heart!
This second set will include new SD Gundams just like last set's Freedom and Unicorn. Planned are new Knight Gundam characters plus the inclusion of an introductory comic in the manual.
Art also includes the package illustration from the SDX Gunrex (preorders open now!) and popular reader submissions!

▲ Set comes complete with newly-designed cards!
■
Carddas Complete Box Special
SD Gundam Ultimate Battle vol. 2
Price: ¥7,140
Preorders open: 4:00 PM, July 1st
Orders ship: Late October
Set contents:
・6 world + SP new card designs = 66 cards (19 prism)
・Special 6-pocket card sleeve binder (holds 84 cards)
・Ultimate Fun Manual
・Bonus 1: Ultimate Battle new art cards (12, all prism)
・Bonus 2: Special Ultimate cards (3)
▼ Order here!
To mark this release, we're also soliciting new armor designs for Knight Gundam! The winner will be printed on a Special Ultimate card. Give the super-popular Knight Gundam new ultimate armor! Enter here!
⇒
http://www.carddas.com/sd20th/special.html
* Les dates liées aux produits et aux services listés seront fixées au Japon.
Puisque les dates varient selon les lieux, veuillez consulter notre site officiel ou le magasin le plus proche pour plus d'informations.
Activez les cookies pour voir les articles recommandés