20 mars 2014
"Gundam TryAge SP" launches on 3DS 7/17! The Gundam digital card game hits handhelds!
Play TryAge anytime, anywhere, with over 1400 cards!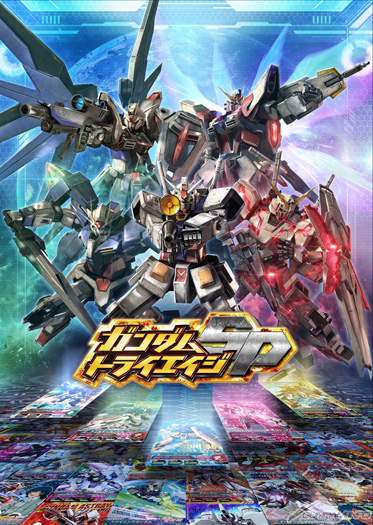 The digital card game Gundam TryAge will make its first console appearance on the Nintendo 3DS as "Gundam TryAge SP", to be released by Namco Bandai Games on July 17th. MSRP is ¥5,690 (tax not included).
The basic Gundam TryAge game rules will remain unchanged, with stylus control taking the place of card movement. With over 1400 cards and 400 missions, StreetPass battles, and more, the game becomes a full-fledged Nintendo 3DS title!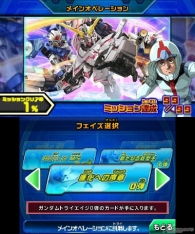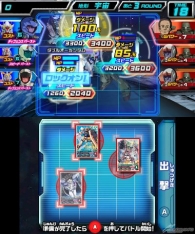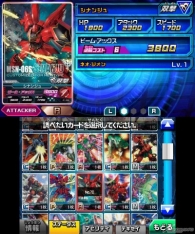 ▲ The cabinet's two screens make the jump to 3DS! Play Gundam TryAge anywhere, anytime!
■
The complete Gundam card game!
Over 1,400 cards, 400 missions, and 160 mobile suits are available for your choosing. Freedom Gundam, Unicorn Gundam, 00 Gundam, and more do battle on your 3DS!
■
Smooth controls put the arcade feel in your pocket!
The dual-screen controls of the digital card game map perfectly onto the two screens and stylus capability of the 3DS. Not enough room to pull out the stylus? Just prefer buttons? The game can be played almost completely with traditional controls, as well!
■
Packed with all the features of a modern Nintendo 3DS title!
Carry your 3DS with you for multiplayer battles anywhere, or look up cards in the digital encyclopedia. You can even do battle without lifting a finger using the 3DS's StreetPass function!
■
The early bird gets the exclusive cards—lots of 'em!
The earliest buyers will receive a pack of cards usable with the Gundam TryAge digital card game.
This exclusive 7-card pack includes six playable cards plus a smartcard.
More info is available on the
Gundam TryAge SP official site
.
* Images from development version.
Gundam TryAge SP
Date: July 17th, 2014
Price: ¥5,690 (tax not included)
Platform: Nintendo 3DS
Genre: Evolved Card Battle
Players: 1 (2 over local WiFi)
CERO: Not yet rated
* Les dates liées aux produits et aux services listés seront fixées au Japon.
Puisque les dates varient selon les lieux, veuillez consulter notre site officiel ou le magasin le plus proche pour plus d'informations.
Activez les cookies pour voir les articles recommandés