19 février 2014
PS3/PS Vita "Super Robot Wars Z III: Jigoku-hen" main characters and mecha revealed!
Plus details on the original Super Robot Wars HD remaster!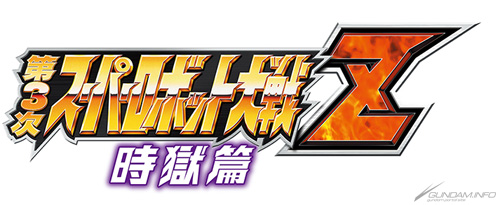 Original mecha and character details for
Super Robot Wars Z III: Jigoku-hen
, scheduled for release on PS3 and PS Vita this April 10th from Namco Bandai Games, have been released.
We've also got new combat screenshots, details on the "Sub-order" system, and a preview of the
Super Robot Wars
HD remake included with the first pressing!
Super Robot Wars Z III: Jigoku-hen
will be the first chapter of the final entry in the Super Robot Wars Z series, begun with
Super Robot Wars Z
on the PS2 in 2008 and continued with
Super Robot Wars Z II: Hakai-hen
and
Saisei-hen
on PSP in 2011 and 2012.
Six Gundam titles will appear, including a first-ever SRW appearance by
Mobile Suit Gundam UC
and the Z-series debuts of
New Mobile Report Gundam Wing: Endless Waltz
and
Mobile Suit Gundam 00: A wakening of the Trailblazer
.
[Prologue]
There exist many worlds, and many universes...
Each of these "parallel worlds" exists in its own dimension, never contacting the others.
Until that day.

The "Great Dimensionquake", a massive distortion in space-time, broke down the barriers between dimensions. Worlds were thrust together, born anew. That was the birth of the "plural worlds". A new world brings new encounters, new encounters bring new clashes, and these worlds were plunged into the chaos of war.
Yet soon, on some of these worlds, a new order formed.

In the world of Super Robot Wars Z, later known as the "UCW", the Multidimensional War broke out.
The special task force ZEUTH led the way to peace, only to be carried by another dimensionquake to the "ADW" (setting of Super Robot Wars Z II).
There, along with new comrades ZEXIS, they fought through both the Worldbreaker Incident and the Rebirth War.

With the ADW at peace, ZEXIS sets off for the UCW through a cross-dimensional wormhole known as an abyss.
Unknown to them, new battles await...
■ Main characters and mecha revealed!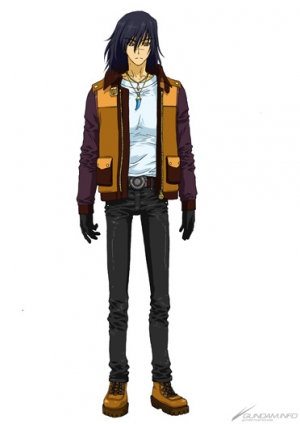 ■ Hero: Hibiki Kamishiro / CV: Ryu Murakami / Designer: Yukihito Ohgomori (Studio G-1 NEO)
A high school junior transferred to a Tokyo-area research-focused "science city". By chance, he finds himself in the cockpit of the humanoid weapon "Genion". "AG", an agent of the cross-dimensional "DEM Corporation", recruits him as the Genion's test pilot.
While seeming cool, collected, and distant at first, he's still friendly and comfortable around other people. However, he conceals deep psychological wounds that leave him feeling isolated and willing to make any sacrifice for his goals. Before his transfer, he worked with his father, a retired soldier, as a "Beast Hunter" hunting the monsters which have come from other parallel worlds. This experience left him with combat and survival skills.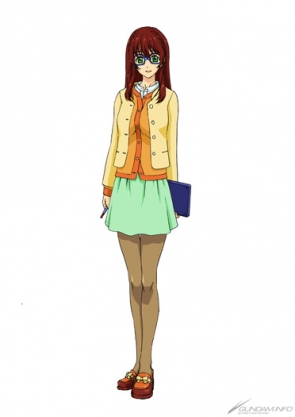 ■ Heroine: Suzune Saijo / CV: Ryoka Yuzuki / Designer: Yukihito Ohgomori (Studio G-1 NEO)
A 21-year old trainee teacher at Hibiki's high school. She teaches Japanese. While still a college student, she is participating in an experimental program offering one-year trainee teaching positions in the science city. With several other teachers named Saijo also teaching at the school, she goes by "Ms. Suzune".
Kind and helpful, she's popular with her students— especially the boys, for some reason. After an incident, she becomes Hibiki's copilot in the Genion.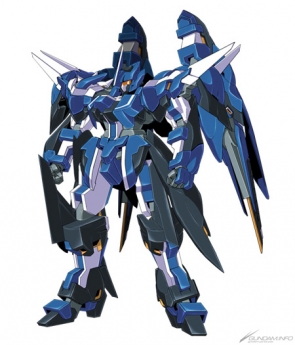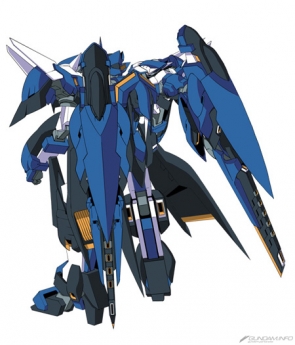 ■ Mecha: Genion / Design: Mitsuharu Okamoto
A prototype Dimension Energy Machinery developed by DEM Corporation. Caught in a dimensionquake during interdimensional testing, it falls to Earth, accompanied by DEM Corporation's agent robot "AG".
Using "Dimension Energy" as a power source, this highly-versatile mecha can deliver peak performance in any environment. Equipped with the "TS-DEMON" combat system, a range of weaponry effective at any range, and the "D-Fort" defensive system, it strikes a balance between offense and defense.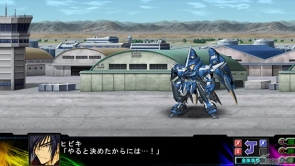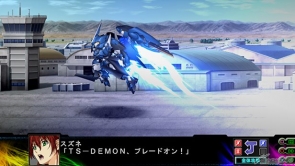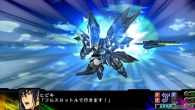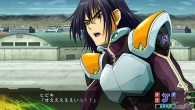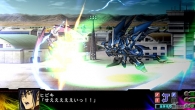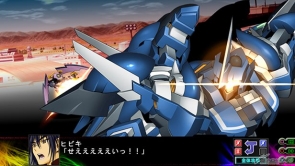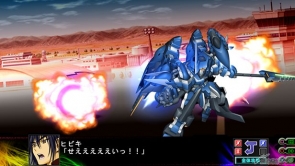 ■ Mecha: Genion / Weapon: Accel Glaive
■
Gundam Harute and more in action!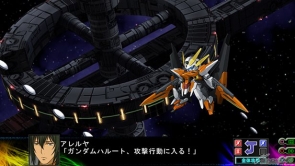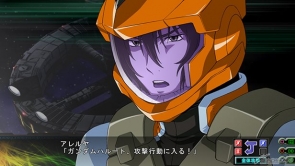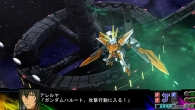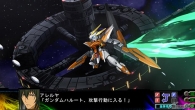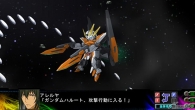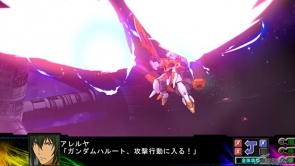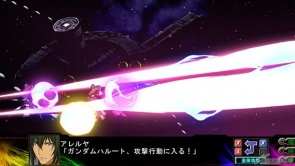 [Ally] Gundam Harute
Series: Mobile Suit Gundam 00: A wakening of the Trailblazer / Pilot: Allelujah Haptism + Soma Peries / Weapon: GN Cannon

[Enemy] Serpent
Series: New Mobile Report Gundam Wing: Endless Waltz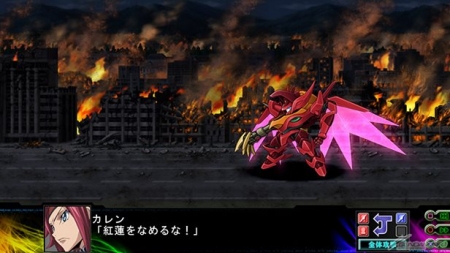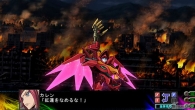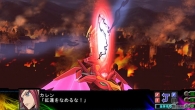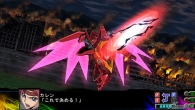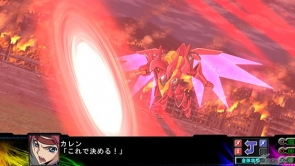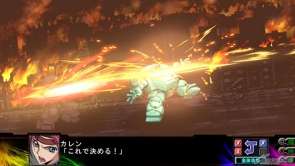 [Ally] Guren Type-08 Elements "SEITEN"
Series: Code Geass: Lelouch of the Rebellion R2 / Pilot: Kallen Kozuki / Weapon: Radiant Wave Surger (Halo)

[Enemy] Scopedog + Fatty
Series: Armored Trooper Votoms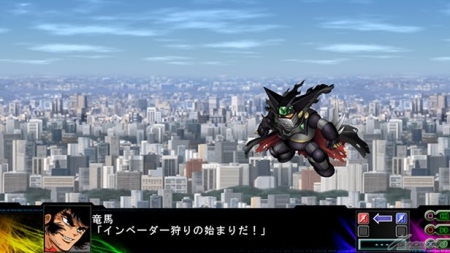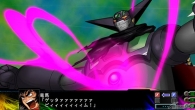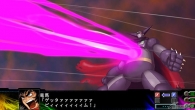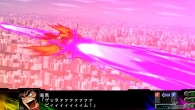 [Ally] Black Getter
Series: Getter Robo Armageddon / Pilot: Ryoma Nagare / Weapon: Getter Beam

[Enemy] Invader
Series: Getter Robo Armageddon
■
"Sub-order" system details released!
The "Sub-order" system gives you an opportunity after each mission to deploy pilots who didn't sortie and earn special bonuses.
Just like
SRWZ2
, pilots can be assigned to "Training", "Patrol", "Simulator", or "Fundraising"; however, the limit for each of these has increased from five to six pilots each.
In addition to player assignment of up to 24 available pilots, an automatic selection function is also available.
However, only main pilots can be used; sub-pilots with Spirit commands but no stats cannot participate.
The four Sub-order commands
Training
Increases each participating pilot's PP by 20. PP can be spent in "Pilot Training"
to raise stats and unlock skills.
Patrol
Increases each participating pilot's kill count by 2.
Simulator
Increased each participating pilot's experience by 500, raising their level by 1.
Fundraising
Earns credits equal to the sum of participating pilots' levels times 300.
| | |
| --- | --- |
| ▲ The Sub-order screen. | ▲ Select from pilots who didn't sortie on the previous mission. Selected pilots will be listed to the right. |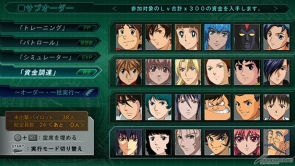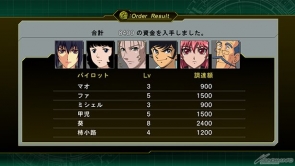 ▲ Once you've made your selections, choose "Deploy All" to execute all orders at once, or "Deploy Separately" to execute one Sub-order at a time.
■
Super Robot Wars HD remake game details and combat screenshots!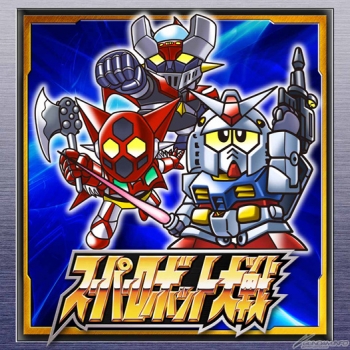 Buyers of first press copies of
Super Robot Wars Z III: Jigoku-hen
will also receive a download code for an HD remake version of
Super Robot Wars
, first released in 1991.
Check out game details and screenshots from the first three missions!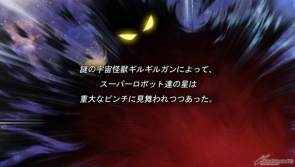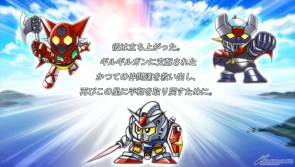 ▲ Prologue
<Team selection and Hero selection>
At the beginning of the game, you'll choose the Gundam Team, Mazinger Team, or Getter Team to use.
From that team, you'll also choose a "Hero" who gains 5 max SP, 5 bonus points to spend on stats, and hero-exclusive Spirit commands. However, if your Hero falls in battle, it's game over!
Team composition
Gundam Team
Gundam
Guncannon
Zeta Gundam
Hyaku-Shiki
ZZ Gundam
νGundam
Gundam F91
Mazinger Team
Mazinger Z
Great Mazinger
Aphrodai A
Dianan A
Venus A
Boss Borot
Getter Team
Getter-1
Getter Dragon
Getter Q
Texas Mack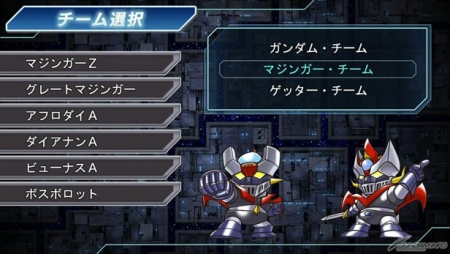 ▲ Team selection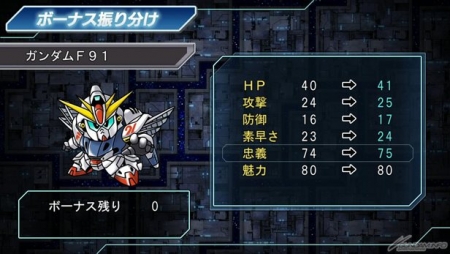 ▲ Hero selection
<Convince system>
Using the game's core "Convince" system, you'll be able to use the special "Convince" command to sway enemies to your side.
Success is based on the convincer's Charisma and the convincee's Loyalty, with a lower HP also making units more likely to accept the offer.
Heroes also have access to the special "Sympathy" spirit command, guaranteed to succeed. However, it doesn't work on enemies stationed within their base.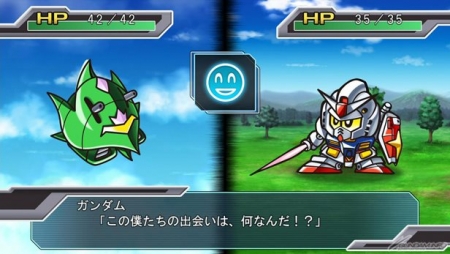 ▲ Using the Convince command
Convincer: Gundam / Convincee: Elmeth
<Tower capture>
During battles, you can capture enemy towers to gain control of their territory.
Units on their own territory gain HP at the beginning of their turn, with the amount based on how much territory is controlled. Tower control also improves your chances of convincing enemies.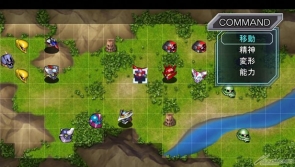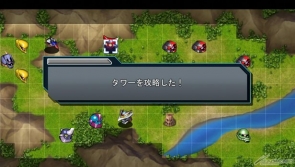 ▲ Assaulting a tower
<Unit release>
Between missions, you can release units. The units will no longer be usable, but you receive items in exchange.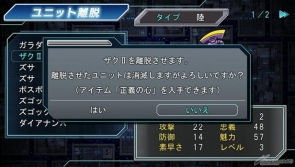 ▲ Unit release
<Unit enhancement>
Units' HP, SP, Attack, Defense, and Agility improve on level up. Their Loyalty, Charisma, and Speed can also be increased by using items between missions. There are also items that grant experience directly.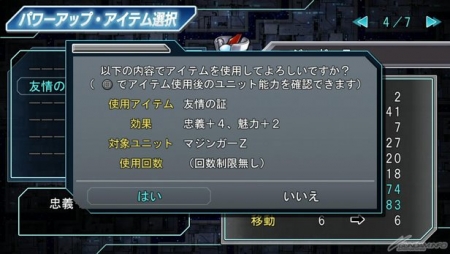 ▲ Unit enhancement
<Cross-save compatible!>
Save data can be shared between PS3 and PS Vita versions. To use this function, you must be signed into the PlayStation® Network and own both PS3 and PS Vita versions.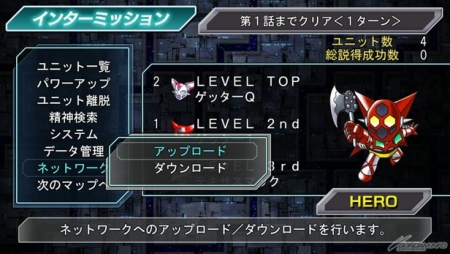 ▲ Cross-save function
<Combat from the first 3 missions!>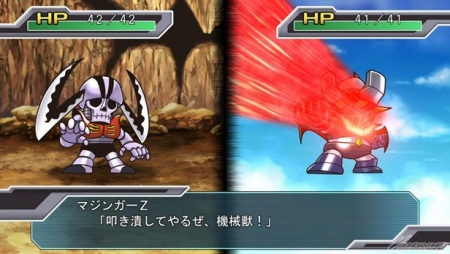 ▲ Episode 1: "Roll out! Super robots!"
Ally unit: Mazinger Z / Enemy unit: Garada K7
▲ Episode 2: "Shoreline Battle"
Ally unit: Gundam
Enemy unit: Full Armor Gundam
* Full Armor Gundam new to HD remake

▲ Episode 3: "Twilight River"
Ally unit: Zeta Gundam
Enemy unit: Messala


* Images from development version.


©Gainax, Kazuki Nakajima / Aniplex, KDE-J, TV Tokyo, Dentsu
© Gainax, Kazuki Nakajima / Gurren Lagann Movie Production Committee
©Shoji Gatoh, Shikidoji/Mithril
©Shoji Gatoh, Shikidoji/Jindai High Student Council
©Shoji Gatoh, Shikidoji/Full Metal Panic Film Partners
© Khara
©Sunrise
©SUNRISE/PROJECT GEASS Character Design ©2006-2008 CLAMP/ST
© Xebec, Flying Dog / Sotsu
© Shoji Kawamori, Satelight/Project AQUARION EVOL
© Sotsu/Sunrise
© BANDAI VISUAL/Flying Dog/GAINAX
© Hikari Production, TMS
© Shinobu Fujiwara / Dancouga Nova Production Committee
© 1983 Big West, TMS
© 1994, 1997 Big West
©2009, 2011 Big West / Macross Frontier Movie Production Committee
©1998 Go Nagai, Ken Ishikawa / Dynamic Planning, Getter Robo Armageddon Production Committee
©2009 Go Nagai / Dynamic Planning, Kurogane-ya
© Sotsu/Sunrise
© Dynamic Planning
Super Robot Wars Z III: Jigoku-hen


Date: Thursday, April 10, 2014
Price: PS3 ver. ¥8,070 (retail and digital)
        PS Vita ver. ¥7,120 (retail and digital)
Platforms: PS3/PS Vita
Genre: Strategy RPG
Players: 1
CERO: Not yet rated
Activez les cookies pour voir les articles recommandés