29 juillet 2012
Summon Arios, Cherudim, and Seravee as assists in 'Lost Heroes' for the 3DS and PSP!
The main visual is finally complete! And more gmaeplay news!

Namco Bandai Games releases Lost Heroes for the 3DS and PSP on September 6th. Along with its main visual, we've got details on the subcharacters you can summon as assists in battle, and more!
In Lost Heroes, you build a party of four from a roster of 15 Gundam, Ultraman, and Kamen Rider characters and delve the depths of a dungeon. As you level up heroes old and new, battles get more and more exciting!
■
Main visual released!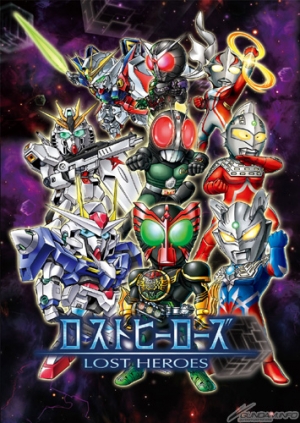 The 15 Lost Heroes, bereft of their power, are beset by a dark force. Can they unravel the truth of their situation and return to their own worlds?
■
Ride Dungeons and Ride Battles revealed!
Ride Dungeons are dungeons too risky to traverse on foot which can only be entered on 'Ride Machine' battleships. Encountering a 'Guardian' foe triggers a 'Ride Battle', making even movement nervewracking!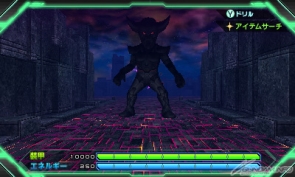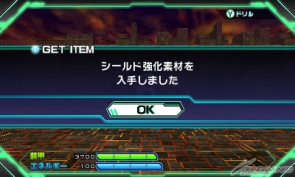 Dungeon walls can be broken through, so upgrade your Ride Machine's Drill to make progress! You can also use Item Search to find loot available only in Ride Dungeons.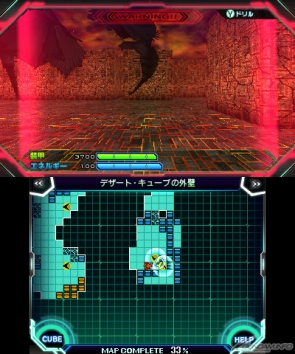 An automap appears on the lower screen (3DS) or inset in the upper right and available by pressing Start (PSP) during Ride Dungeons.
In Ride Battles, triggered when you touch a wandering Guardian, the heroes take on their foe from behind the wheel of their Ride Machine!
When the Ride Machine's armor reached 0, it's defeated, and when its energy reaches 0 its actions are severely limited. Enemy attacks can also damage specific portions of the Ride Machine, lowering associated stats.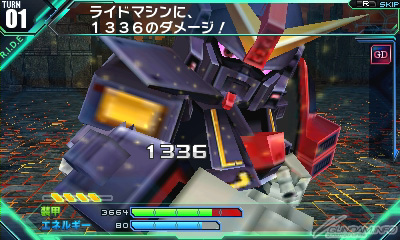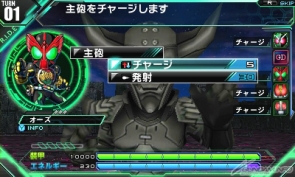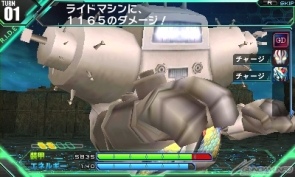 Choose from commans like 'Main Cannon', 'Turrets', and 'Reinforce' to match your characters' and the Guardian's turn order!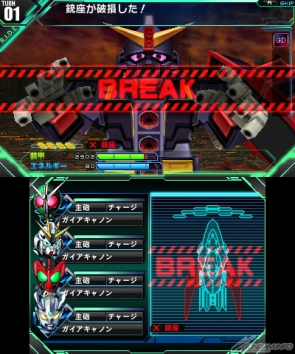 Segments of a Ride Machine can even be destroyed!
■
New info on 'Chips' and 'Force'!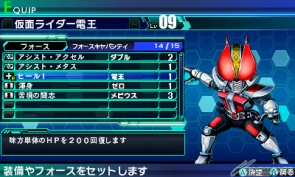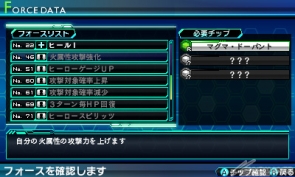 Enemies drop 'Chips' when defeated, which are redeemable at bases for Force.
Force comes in two types, one which unlocks skills and one which powers effects. Characters can equip up to six total, as long as it's within their force capacity.
No two heroes can have the same Force equipped, so be careful with your party balance! Customize your party to your heart's content by choosing who gets which Force. Collect Chips to unlock more Forces!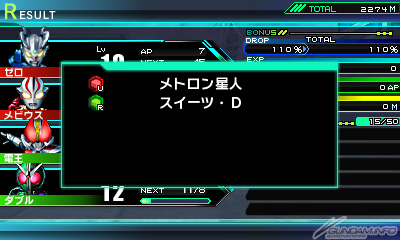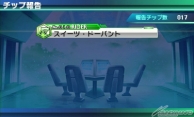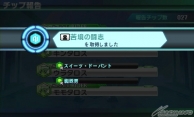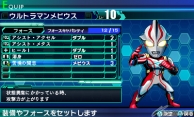 Defeat Sweets Dopant to earn a Sweets Dopant chip! Turn it in an combine it with the Mothman chip to unlock a new Force!
Your new 'Strong Will' Force will boost its character's attack while they're effected by a negative status!
Chips can also be earned during events, and put together whenever you're at base.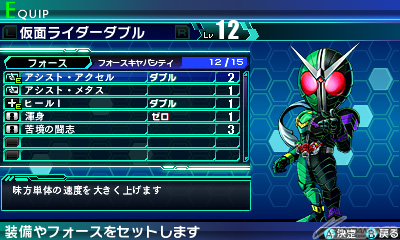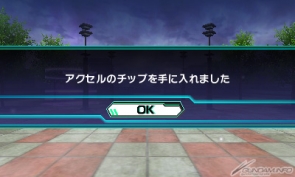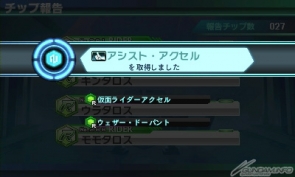 Get the Kamen Rider Accel chip and combine it with the Weather Dopant chip you already have to create the Assist Accel Force! By equipping Assist Accel, you can summon Kamen Rider Accel as an assist during battle!
■
Subcharacters join the battle with Assists!
Story subcharacters can join in battles as Assists. Assists are part of the Force system, so they can be unlocked by collecting Chips.
<Gundams>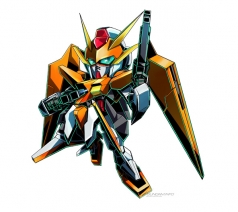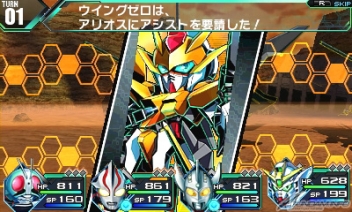 Arios Gundam
Its GN Submachine Gun, versatile GN Shield, and GN Twin Beam Rifle make it a good all-around fighter.
[Assist effect] Stun a single enemy.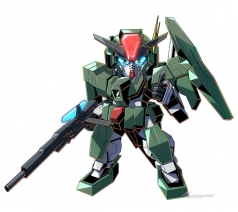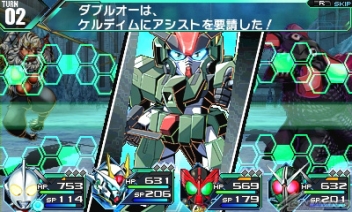 Cherudim Gundam
Its GN Sniper Rifle II and sniping sensor unit let it make targeted attacks.
Meanwhile, GN Shield Bits let it defend against attacks from all angles.
[Assist effect] Boost a single ally's ranged attack.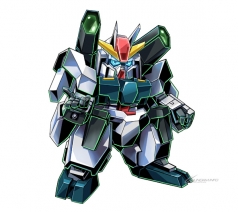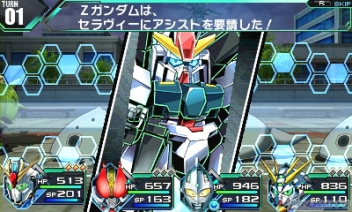 Seravee Gundam
Specializes in heavy firepower with the GN Bazooka II and GN Cannon.
Also has high defense thanks to its GN Field.
[Assist effect] Boost all allies' ranged defense.
<Riders>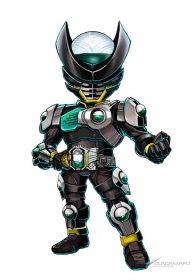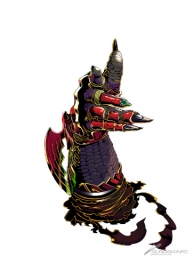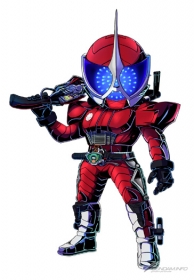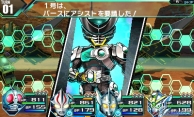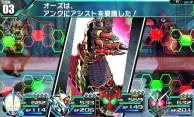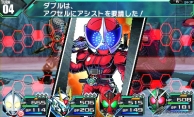 (left) Kamen Rider Birth
A Kamen Rider whi uses the Medal System. Drawing forth the power of the Medals, he's powerful enough to face off against OOO or Greed. He prefers fisticuffs, and attacks close-in with the Birth Buster.
[Assist effect] Panic all enemies.

(center) Ankh
A bird-type Greed who fights alongside OOO. Only enough medals were available to revive his right arm. Fiercely tenacious.
[Assist effect] Boost all allies' melee attack.

(right) Kamen Rider Accel
A Kamen Rider with the power of speed from the Accel Memory. He wields a versatile Engine Blade, and fights with a speedy, kick-centric style. His finisher is the Accel Grand Tour.
[Assist effect] Boost a single ally's speed by a large amount.
<Ultramen>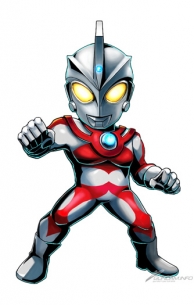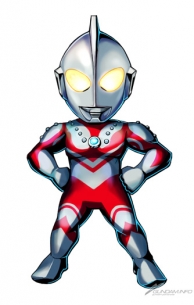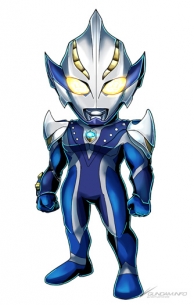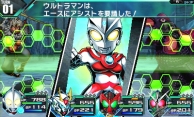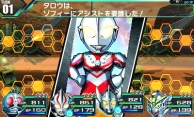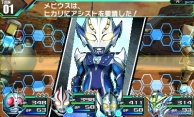 (left) Ultraman Ace
Fought against the interdimensional creature Yapool. Among the Ultra Brothers, he is the most adept at beams. His finishers include the Metallium Beam.
[Assist effect] Boost a single ally's ranged attack by a large amount.

(middle) Zoffy
Leader of a team of space police and first amond the Ultra Brothers. Speedy and with a knack for command, he's a trusted defender of space.
[Assist effect] Boost all allies' ranged attack by a large amount.

(right) Ultramen Hikari
A blue Ultraman who received the Knight Brace from Ultraman King. Formerly a member of the Land of Light's Space Science Technology Bureau. While he prides himself on his combat potential, his skills as a scientist are even more amazing.
[Assist effect] Boost a single ally's ranged defense by a large amount.
■ Create and upgrade your own equipment with gear synthesis!
Items can be created and upgraded up to five times via synthesis, boosting character stats when equipped.
Special effects are inherited through synthesis, letting your customize your gear!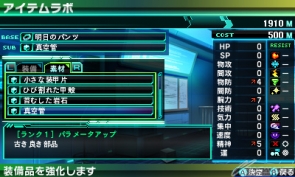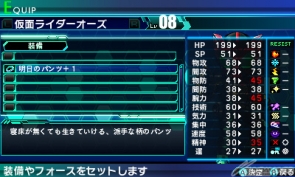 Combine 'Tomorrow's Briefs' and a 'Vacuum Tube' to create 'Tomorrow's Briefs +1'. Equip them and boost your stats!
■
Take down enemies with their elemental weaknesses!
Enemies can have weak and strong points. Adapt your tactics to the enemy your face for victory.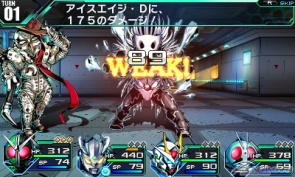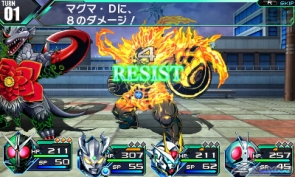 (left) Weak points
Iceage Dopant is weak to fire. 'WEAK' will display, and he'll take added damage.
(right) Resistances
Magma Dopant is strong to fire. 'RESIST' will display and he'll take less damage
■
Second in-game video!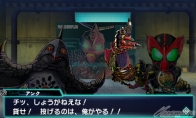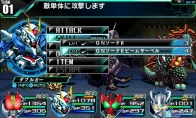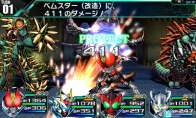 A second in-game video is available on the Nintendo eShop. See dungeon movement and conversation events in action. Ultraman Zero's Hero Skill is there too!
Don't miss the video!
http://www.youtube.com/watch?v=cVwZMKCq35s
※ Ultraman Zero's Hero Skill will feature Zero's battle BGM in the final version. This video features a game original track instead.



※ Images from development version.
※ Images from 3DS version.


© Ishinomori Pro, TV Asahi, ADK, Toei
© Ishinomori Pro, Toei
© Sotsu, Sunrise
© Sotsu, Sunrise, MBS
© Tsuburaya Pro
Lost Heroes
Date: September 6th, 2012
Price: ¥6,280
Platforms: Nintendo 3DS, PSP®
Genre: Hero RPG
Players: 1
Network: Streetpass
CERO: B
Activez les cookies pour voir les articles recommandés