29 août 2012
Our report on the Char Custom Auris, direct from Chara-Hobby!
See the Char Custom Auris in person in seven cities this fall during the Auris Red Expo!
The details of "Char Aznable x Toyota" project have been revealed at Chara-Hobby 2012 C3 x Hobby.
It is a car in Char's custom red coloring, with realistic caution markings.
Given the model number "MS-186H-CA", it carries all the special customizations you'd except from an ace's personal suit.
Its name: The Char Custom Auris!
The shocking "Char Aznable x Toyota" project's details were finally released at Chara-Hobby 2012 on August 25th.
At the historical moment on that day, Toyota's booth was packed with throngs of onlookers.
| | |
| --- | --- |
| As the cover was drawn back unveiling the matte-red Char Custom Auris with Zeon insignia and caution markings, little could be heard over the sound of camera shutters. | |
From its militaristic matte red to its Zeon emblems, the roof-mounted blade antenna, and vernier-styled diffuser and built-in muffler, it looked every inch the Char Custom.
The waves of cameramen angling for a picture of the Char Custom Auris continued through the end of the show on the 26th.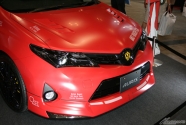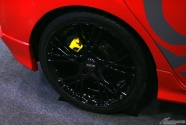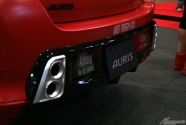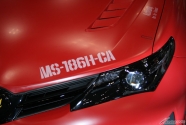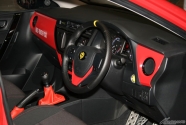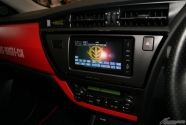 At the Toyota booth, decked out entirely in red, Char's history, famous quotes, Gunpla of his mobile suits, and lineart were on display.
Attendees also tried their hands at the "Char Test", producing impressive results.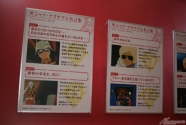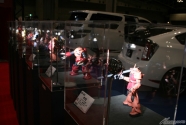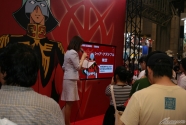 Shuichi Ikeda (Char) and Toru Furuya (Amuro) were among the guests on the Char Aznable x Toyota stage.
They performed their moving confrontation from Mobile Suit Gundam II: Encounters in Space live on stage.

A report from the stage show will be posted soon.
Keep an eye out for more info!
Specs
Base model
Toyota Auris RS S Package
Model Number
MS-186H-CA (Base model: DBA-ZRE186H-BHFNP-S)
Weight
1,290kg (+20)
Engine
2ZR-FAE
Displacement
1.797L
Fuel injection
EFI
Maximum power
106kW (144PS)@6,200 RPM
Maximum torque
180Nm (18.4 kgf/m)@3,800 RPM
Length
4,335mm (+60)
Width
1,760mm (+0)
Height
1,510mm (+50)
Wheelbase
2,600mm (+0)
Seating capacity
5
Drive
2WD
Transmission
6-speed manual
Color
Custom Red (matte)
Features
Exterior
[1] Blade Antenna
[2] Aero kit (LED front spoiler / side skirt / rear fender skirts)
[3] Rear diffuser and built-in muffler
[4] Hood ducts
[5] Principality of Zeon emblem (Front, rear) - Lit
[6] Low-down springs
[7] Mirror garnish
[8] 18-inch alloy wheels
(Principality of Zeon insignia)
[9] Blackout
(Headlight interior, front grille, front lower bumper, fog lamp bezel)
[10] Painted brake calipers
[11] Custom vehicle wrap
(Matte color, carbon fiber roof, caution labels)
Interior
[1] Leather steering wheel cover
[2] Leather shifter cover
[3] Leather shifter boot
[4] Leather handbrake cover
[5] Interior wrap (dashboard, steering wheel)
[6] Steering wheel (Principality of Zeon insignia)
[7] Black-out (instrument panel, door trim)
[8] Keyless ignition (Principality of Zeon insignia)
[9] Aluminum accelerator / brake pedal / clutch pedal
[10] Custom floor mats
About the model number:

Toyota Modellista International
Website of Toyota Modellista International, makers of the Char Custom Auris
■
Char Custom Auris on display at seven locations nationwide! Auris Red Expo

See the sporty new Auris on nationwide tour, beginning at Karuizawa's Prince Shopping Plaza September 15th!
The new Auris will pass through seven cities, with desplays of the new model and the Char Custom version unveiled at Chara-Hobby 2012, opportunities for those wearing red to get their picture taken with the car, and more.
Experience the Char Custom Auris in person!
For more info, visit the
Auris Red Expo
website.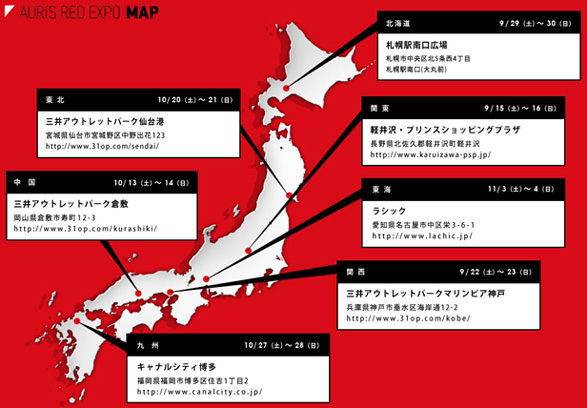 * Les dates liées aux produits et aux services listés seront fixées au Japon.
Puisque les dates varient selon les lieux, veuillez consulter notre site officiel ou le magasin le plus proche pour plus d'informations.