"What is 'Gundam', anyway?" This simple (?) question is answered in our forty-seventh casual weekly column just for new fans!
by Ema Baba
 We're back spilling more ink (how haven't I used that one already?) with a 47th super-simple intro column about what makes Gundam Gundam!
 You can see our previous coverage of what makes Gundam Gundam
here
, and this week we're back with another Gundam standard!
 What's one other thing that makes Gundam Gundam? That's right!  We can't forget about those daaaaaaaarling little sisters adored by big brothers nationwide!
 In part 47, we bring you "Little Sisters of Gundam" (Part 1)!
●●●
Gundam's Universal Century little sisters are calm, brave young ladies!
  Little sisters, huh. I'm reminded of Chandler's Philip Marlowe novel (over here, Haruki Murakami's translation was released as "Little Sister", while Shunji Shimizu's was released as "Cute Girl". See? This column really is educational!)
It makes sense, though! Little sisters absolutely have to be cute. They don't even qualify for the term if they aren't. How else do you explain the psychology of the 30,000,000 or so big brothers (← the Ministry of Public Management has to have announced that number somewhere, right?) across Japan?
 Now that we've got that out of the way, let's take a look at two calm, responsible little sisters who explain the appeal!
■ Reese Arno (Mobile Suit Gundam F91)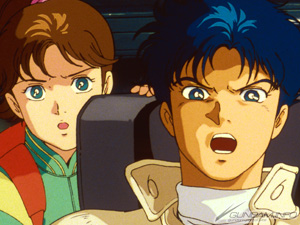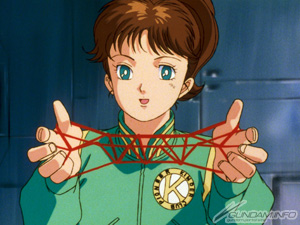 Our first look is at Reese Arno, a 10-year-old in 5th grade. She's talented at playing cat's cradle. (← This is important!) She lives a peaceful life on Frontier IV with her father Leslie, a former metallurgist who left his position over potential military use of his research and is now a welder at the docks, and her high-school-aged brother Seabook (← who, of course, she calls "big brother" rather than by name.) Their estranged mother, Monica, is a workaholic has essentially abandoned her family to focus on the design of the "bio-computer".
 Reese hides her loneliness well. Good girl! (Her brother Seabook's efforts are partially to thank for this, too.) However, their peaceful family life is shattered by a Crossbone Vanguard raid.
 Together with Seabook, she escapes Frontier IV aboard the training vessel
Space Ark
. Young as she is, she lends a helping hand aboard the
Space Ark
, looking after children even younger than her. Seabook himself is the stoic, well-grounded type, and rather than being pushed over the edge by the situation he's able to remain a steady, positive influence on his sister and his friends. You can see the influence of Leslie, who took over raising her as soon as she was weaned. (← mother Monica's influence, shrouded by her focus on her work, is far less apparent.)
  And Reese isn't just sensible. She even manages to help her brother by finding the launch code for the Gundam F91! (← Which, of course, her mother built.)  What a good girl, helping her big brother!
 And such a clever young lady, figuring out the code to activate the bio-computer from the instructional video her mother recorded! (It's the cat's cradle pattern she was taught by Mom.)
 When Reese and Monica meet again, she nearly manages to put the core themes of
Gundam F91
into words, saying that she and the others "want to get away from this war, but are too afraid to run".
 Young but courageous and clever, Reese is a Gundam little sister who'll really stick in your heart.
■ Leina Ashta (Mobile Suit Gundam ZZ)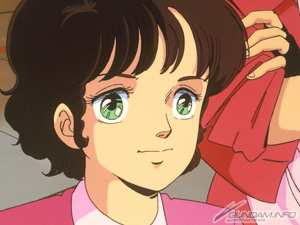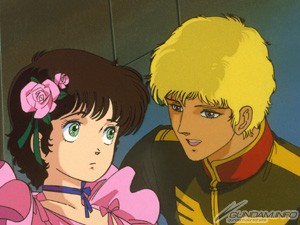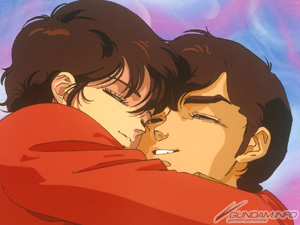 Next, we've got an entry so inevitable that I'm honestly afraid of catching an angry all-range attack (see the last two columns) if I skip her: the princess of Gundam little sisters (← is that seriously something people rate), Leina Ashta (age 10). A resident of the Side 1 colony Shangri-La, she's both appreciative of and worried by her brother Judau Ashta's decision to leave school and work as a scrapper to fund her own education. However, it's also her suggestion that Judau join the crew of the AEUG assault cruiser
Argama
(and she comes along, as well.)
 When Judau is cornered in the Zeta Gundam, she sorties herself in the Core Base and is able to save him but only at the cost of her own capture by Neo Zeon; the Neo Zeon strategist Glemy Toto then takes on a task of introducing the young Shangri-La slum girl to high society in a manner reminiscent of Professor Higgins in
My Fair Lady
. Glemy, an attractive young man with a poorly-hidden Oedipus complex, makes rapid progress, but as she makes her debut, Leina (already awakening as a Newtype?!) realizes his baser (← eww) motives and is struck with a deep resentment.
 Her shouts of rage as an AEUG attack rocks the site of the party are enough to command the respect of even the Neo Zeon guards. But then, she's shot by Haman Karn!  Poor Leina still manages to fight through the pain, all for the sake of her big brother! Isn't she just adorable?  She has to be the #1 Gundam little sister!
 Later, wounded even more heavily after the Core Base is shot down, she takes refuge in a hut on a deserted island, only for the wreckage of a mobile suit to crash into it.  Has our little angel gone to Heaven? I can just see an army of big brothers out there after it first aired, pointing their 1/144 Gunpla on their heads in hopes of following Leina into the next life.
 But don't worry!  At the very last moment, Leina was, in fact, saved by another little sister: Sayla Mass, Char's sister! (Applause!)
 Big brothers out there who were crashing your Gunpla into your head: your most important possessions, your Gunpla, may be destroyed now, but at least it's nothing fatal! (… You should still probably get your heads checked, though.)
 As they embrace in joy in the final episode, I'm sure none of you have dry eyes. Isn't that right... Oniichan?
 For now, that's all for our first look at the little sisters of Gundam!  
 And when I say first... That means there's a second one coming!
Oh, isn't Gundam just so fascinating?
Well, well, well, well, well, well, well, well, well, well, well, well, well, well, well, well, well, well, well, well, well, well, well, well, well, well, well, well, well, well, well, well, well, well, well, well, well, well, well, well, well, well, well, well, well, well, well, that's it for this week. Next week we'll be taking another laid-back look at what makes Gundam Gundam!
[Author profile]
Ema Baba
Scriptwriter. Troublemaking scenarist.
Learning more every day to teach you about the fun of Gundam!
Activez les cookies pour voir les articles recommandés